Here at SquadLocker, we can't stop talking about the UA Sportsmask. And we're smiling because this mask scores in so many ways. It's got you covered at every position:
Fit
Performance
Looks
Breathability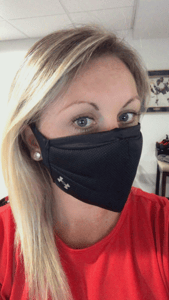 "Just got my UA mask in, and they're worth the $30!!"
That's the report from Tiffany Omicioli. As Merchandise Planner for SquadLocker, Tiffany's job is to make sure the products we offer customers will be reliable performers -- in the game, in the classroom or in the stands. So naturally she likes to check things out for herself. And she loves the features of this mask:
"There's a lot of space to breathe with the construction around the mouth."
That's because the mask cups the face and lips rather than sticking to your skin when you inhale, so you don't get that damp, smothered feeling other masks create. The mask also has an adjustable nose bridge that fits well even if you wear glasses
"Ear loops are super thin and soft -- very comfortable."
That's because the ear loops and side panels are stretchy, so they flex with you and don't chafe.
"I have an M/L size on and it fits great."
That's because the UA Sportsmask comes in five sizing options from XS/S to XL/XXL to ensure a perfect fit for every face.
Plus the UA Sportsmask comes with its own washable, anti-microbial carry pouch complete with locker tag so you can personally ID it. You can check it out here.
Sports masks have to play to a higher standard
The face mask you wear around town is intended to reduce transmission of germs from you to other people. It can feel a bit stuffy, even when you're just running errands, because cloth masks that are most effective to prevent COVID-19 spread are made of tightly woven fabric. But these masks also retain moisture in your breath and sweat, becoming damp or soggy after a while. That's not only uncomfortable, it makes breathing difficult, even more so when you're exercising.
When you're running up and down the field or court or zipping around the track during practice, you need oxygen, and plenty of it. You need a mask that helps you breathe.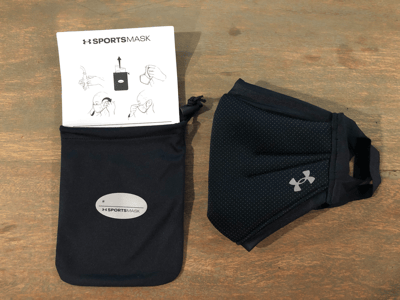 Leave it to UA to create a great mask
Top athletics apparel companies like Under Armour know a thing or two about keeping your body parts dry and comfortable even when you're working up a sweat.
This mask features three-layer construction using high-tech fabrics that are soft, smooth and literally feel cool on your skin, no matter how long you wear it. The mask wicks away moisture from the inside for maximum airflow, and it repels water from the outside to keep out rain or sweat.
The mask is so comfortable you may want to make it your #1 for all activities. In fact, it is specifically designed for everyday activities as well as when you're exercising hard. It is reusable and washable.
Leave it to SquadLocker to custom decorate your mask
A great face mask deserves great custom decoration, just like the rest of your team's apparel and spirit wear. And as always, we're here to make that happen. Your players and fans will be breathing easy and looking professional in their new UA Sportsmasks.