Most of the time, our SquadLocker customers have an existing logo they want to use to decorate their sports gear. But, what if you don't? No sweat. Our crackerjack graphic design team is here to help you create a snappy custom logo from scratch. Even better, we'll do it for free. We know how important your logo is – it's a visual representation of your organization and team spirit. It has to be just right, and just great!
When you team up with SquadLocker, you can be sure you'll get a winner. We work fast, too, because we know you're excited to start wearing your new decorated uniforms and spirit gear.
Why start from scratch?
You might require a from-scratch design if:
You literally have no logo, for whatever reason (maybe your school or club is brand new)
You want to replace an old, outdated logo
You have an official school logo but are looking for "sub-logos" to differentiate specific sports without losing your overall branding. (For one customer, we created more than 100 sub-logos.)
We will design one custom logo for your store at no charge, including a couple of rounds of edits if needed, to ensure it's just right. The more you know about what's involved the better prepared you can be to help us produce the perfect design that is uniquely yours. One your players and fans will be proud to root for and wear.
First we'll talk, then we'll draw
Every team member – player, coach, or admin – knows that winning starts with solid preparation. It's the same for logo design. So, to get the ball rolling we'll ask you some key questions. You can be thinking about the answers ahead of time, and you can also check out our logo template book, font examples and our standard color library to get inspiration.
Do you already have a logo you have used in the past that we can use as a reference?
If not, do you have any other reference images or layout ideas we could work from? For example, you might have a rough sketch, such as the example below. Reference material helps us envision what you have in mind, but if you have none, that's OK.
Do you have a mascot?
Do you have a font preference?
What are your team colors?
What color gear will you be ordering? (This isn't critical, but if you are able to tell us, we can make sure the logo colors will really "pop" against the background.
Will you be embroidering certain items? Knowing up front that you might be using embroidery to decorate some gear alerts us to the fact that we may need to make a separate iteration of your logo for that purpose. (We want your logo to always look crisp and professional, and embroidery has somewhat different artwork requirements.)
You'll get a fabulous design, and it will be exactly right to produce premium quality decoration no matter what garments you offer in your store or what type of application process you choose.
Before: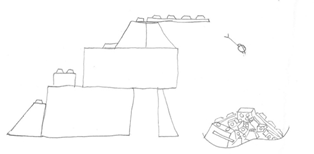 After: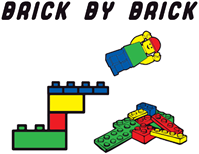 The logo above started with just a submitted sketch. Our talented designers worked to help make this real for the Brick By Brick team. Learn more about what makes a great logo.
Ready to get started?
It's super easy -- just what you'd expect from SquadLocker! Just click on the blue chat bubble on our website or drop us an email. What happens next?
If you have an existing store and are requesting a brand new custom logo, we'll use the information you provide to create a design and then upload it right into your store for your review. That way, your logo will be "store ready" immediately. If needed, we can quickly make edits. Frankly, though, for most of our customers, it's love at first sight.
If you are new to SquadLocker and don't yet have a store, one of our team experts will contact you to discuss your logo design and answer all your other questions. Our #1 goal is to help you get the perfect logo in the quickest turnaround, so your store will be ready to go as soon as possible!
At SquadLocker, we make it simple to design a custom logo from scratch, and we make sure it's designed to produce professional-looking decoration every time. Just wait till your players and fans see how great they look in their new gear!