Pity the poor Charlotte 49ers. Anyone who has ever had to order uniforms for a sports team knows that snafus are to be expected. But what could be worse than having your team's uniform snafus make the headlines and overshadow the entire game? The Niners' embarrassing plight probably sounds all-too-familiar.
The 49ers faced problems with delivery
They placed their bulk order for new football jerseys months ago (turns out the uniforms were coming from Central America). Loads of lead time, they thought, yet the uniforms arrived barely 26 hours before kickoff. Big surprise, says Charlotte coach Will Healy. "Every school in the country is having this issue, because of the pandemic and supply-chain interruptions. Every day the FedEx truck comes in, I'm like, 'There it is!' And then it's like: two pairs of gloves."
The 49ers faced problems with color & quality
After all that, when the apparel finally showed up was it field-ready? Nope. Local staff had to schedule an all-nighter to finish preparing the uniforms and then get them delivered. One social media post applauded their efforts: "They worked until 3:30 a.m., started again at 6 a.m. Amazing!" After all that dedicated hustle, the uniforms were ready to go, and they looked great. Up close, anyway. From a distance and on TV? Not so much. You see, it was really tough to distinguish the players' numbers on their jerseys.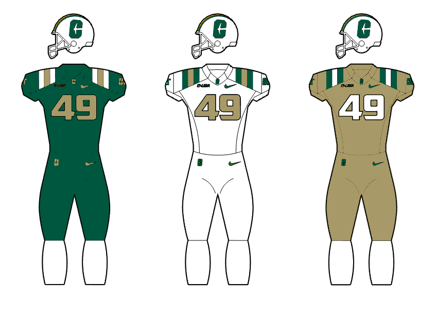 One of the ESPN announcers wondered aloud if the uniforms were, in fact, legal. After all, the NCAA requires clear color contrast to ensure easy legibility even at a significant distance. Theoretically, non-compliant jerseys cannot be worn. Nonetheless, officials allowed play to proceed. Many social media posters were not impressed:
"These uniforms have to be a [sports information director's] absolute worst nightmare."
"Horrible new logo AND illegal jerseys. Way to represent!"
"#jerseygate"
And the Charlotte 49ers went on to lose the game, 35-20.
What we can learn - use a trusted advisor!
When you team up with SquadLocker, you can permanently sideline bulk ordering and all the headaches (and heartaches) that it brings. Instead, you can access a great selection of high-performing, brand name apparel and gear – and spirit wear, too. You get an online store that's easy to set up and easy to use. Players or parents, staff, and community fans order their own stuff, and we deliver it directly to them. It's simple, convenient, and fast – most custom apparel is produced in just 5 days. The whole process is contactless, delivered right to the palyers' or fans' homes, and uniforms arrive field-ready.
Professionally field-ready, because our designers and apparel experts know about what makes a uniform great while staying compliant with uniform rules, no matter your team sport or level of play.
But that's just the beginning, says Tip Fairchild, SquadLocker's Director of Sales. "What we're really focused on is not only providing field-ready uniforms, but also being your trusted advisors with all things apparel and uniform coordination. We focus on not just the process of outfitting your team, but making sure we're knowledgeable about the best decoration methods, best style options, and latest industry trends."
In other words, our SquadLocker team is always there for you. We're the people you can come to with questions about new styles, new colors, and new ways to outfit. And doesn't that just beat the heck out of wondering when your gear will arrive and worrying about what you'll get or what it will look like?