Your team colors are official. They are the foundation of your logo. You're not going to wake up one morning and decide your logo should be orange and gray if it's always navy and gold. But that doesn't mean you can't make minor adjustments to ensure your logo always makes a bold statement when you use it to decorate uniforms and spirit wear.
Why would you want to do such a thing?
Because colors have tremendous psychological impact. Your logo colors not only trigger instant team recognition and pride, they also affect the way decoration appears on your uniforms and spirit wear, depending on how that decoration is applied. That's the functional side of color.
50 shades of gray . . . and every other color
Just how many variations of red are there? Or blue? That depends on the palette you're using, and different imprinting methods have different palettes and capabilities. Here at SquadLocker, we use three distinctive techniques – printing, sublimation and embroidery – to decorate your garments and gear. Each of them produces colorful yet somewhat different results.
Printing requires specialized films that rely on a color system called CMYK (Cyan, Magenta, Yellow, Black), the primary colors in pigment.
Sublimation works differently, because the dye is imprinted digitally. This method uses a color system called RGB (Red, Green, Blue), based on the primary colors in light. Digital device screens also use RGB to generate color. However, screens notoriously display colors differently (and usually brighter), so what you see on your monitor or smartphone screen may not be exactly what you'll see on your jersey, or a hoodie or a hat. It may not even be the same as what you'd see on a different screen.
Embroidery uses thread, a specialized yarn that is dyed and has a very glossy appearance. It can be made from cotton, silk, or a synthetic, but each type of fiber "accepts" dye differently, so the result looks somewhat different.
Here at SquadLocker, we use only the finest quality printing inks and embroidery thread, to ensure your decoration retains its just-out-of-locker-room appearance beautifully – and reliably -- over time.
Colors also work together in unexpected ways
Contrast can make your colors stand out smartly against one another, but lack of contrast will make your logo look vague and uninspiring. For example, red and blue are very different colors, right? But if you put a mid-range shade of red next to a mid-range shade of blue, it will make it tough to distinguish the design.
And then there's the ultimate contrast. Sometimes, having more of "nothing" looks best. Graphic designers and artists call that white space. It gives the eye a chance to rest and helps to separate and highlight colors and visual elements within the logo.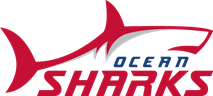 Whitespace at work in this Ocean Sharks logo
The most spirited logos are properly colorized
Your decorated uniforms and fan wear should look as good as the pros when it takes the field or takes to the street. Are you getting maximum pizzazz and crisp, clear reproduction from your logo? It is entirely possible to update your colors to boost their wow factor without straying from the official palette required by your school or organization.
Besides, maybe – just maybe -- it's time for a more contemporary look. Legacy is a wonderful thing, so your basic logo design has enduring value. But, like everything else, trends come and go, and a logo that looks old-fashioned (dare we say stodgy) will lose its power to unify and energize your players and fans. Many NFL and college teams have brightened their colors in recent years:

Seattle Seahawks new colors
The Seahawks and University of Oregon Ducks uniforms now sport a neon version of their official green.

LA Rams new colors
The Rams morphed their snoozy blue and gold into a bright sky blue and a sun-hot shade of yellow.

Tampa Bay Bucs new colors
The Bucs ditched their boring gray for a hip pewter shade.
Did they lose their identity? No! They energized fans (and their own players) by giving traditional colors a fresh new twist. Go, team!
Who knew there was so much to know about color?
It's interesting, for sure, and it helps to understand how and why color affects your decoration. But don't let it make your head spin! Our SquadLocker art department has all the expertise you could want, and they're here to help you refine your logo, if needed.
And did we mention their services are free? No excuses, now. Let's talk color, so your logo will reproduce beautifully and professionally, no matter the item being decorated or the style of decoration you choose.