A new football season calls for new uniforms. It's a matter of team pride to look your best while playing your best to vanquish the opposing team.
NFL teams recently revealed their new on-the-field looks for 2020. Some are sticking with the dark and stealthy tough-guy look. Some are modernizing their traditional colors to go brilliantly bold and bright. And a few are going retro, bringing back the look they wore when last they won the championship. Who knows? Maybe that uniform will bring them luck again.
It's time to get busy on your 2020 design, too
After all, soon it will be time for your players to order their uniforms. You could follow the lead of some pro team to create this year's design, but whatever you choose, keep in mind that the hottest trend for 2020 is actually a time-honored one: Design that celebrates your team brand.
Your name and logo are yours alone, and how you display them or embellish on them is what sets your uniforms apart from every other team's. One look at your outfits and everyone knows you're the team to beat – a powerhouse on the gridiron and off.
But football uniforms can be costly, and your school or organization probably doesn't have an NFL-size budget. So where can you get great-looking gear that scores big in looks, comfort and practicality without sacrificing affordability?
See what we've got...
At SquadLocker, you'll find uniforms from the best names, styled to fit your budget and ready to carry your team's unique decoration all the way to the end zone. We've made it simple to outfit your team at the level that suits you most comfortably: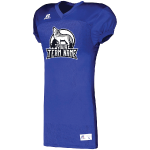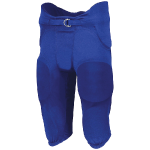 1. MVP – good quality pants and jerseys from Russell that are always in stock, include standard decoration, ship in as fast as 3 days, and typically cost less than our other options. Choose from a dozen solid-color jerseys with side inserts for added comfort and from 6 colors for the 7-piece pad pants. Plus, these uniforms come with hassle-free returns!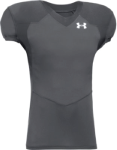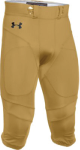 2. Stock – better quality everyday uniforms that include standard decoration and ship in 5-7 days. We offer three options here:
CHAMPRO Time Out practice jersey, Huddle stretch polyester dazzle jersey and Terminator 1 integrated pant with build-in pads
UA Pipeline jersey in 7 colors and integrated pant in 6 colors
UA Armourgard jersey in 7 colors and Force pant in 9 colors. Special decoration package deals are available for these uniforms.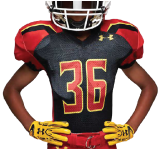 3. Sublimated – our best quality uniforms that are fully customizable. You can go whole hog with decoration, but please remember to give us longer lead time for that. We offer two options here:
CHAMPRO Single-ply reversible jersey in comfortable stretch mesh that is reinforced at stress points for extra durability, with stock Terminator 2 integrated pant with built-in pads
UA Armourfuse® jersey that combines tricot mesh with stretch knit side panels and Armourfuse® pant with 4-way stretch. Both jersey and pants are customizable.
Are sublimated uniforms on your team's future wish list?
What else is hot for 2020?
Scoring your team's uniforms in just 4 plays:
Choose the uniform category that fits your needs (MVP, Stock, or Sublimated)
Choose the jerseys and pants your team will love
Choose the design that sets you apart
Review and order with a SquadLocker Uniform Expert
Fast and convenient for admins, just as fast and convenient for players or parents:
Go online to the team store
Choose the right size uniform components
Add your name and number
Submit payment
Receive your uniform delivered right into your arms (well, to your front door)
No fuss. No contact. Uniforms that say "this is our year" boost camaraderie and excitement as well as pride among players, coaches, families and fans. Let the season begin!