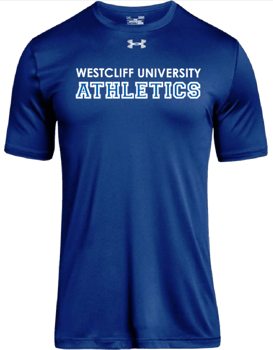 Every logo is different – and that's the point actually.
Your logo is unique to your team, school, business or organization, identifying your brand among the crowd. When it comes to custom printing your logo on uniforms, gear, and other apparel, including masks, there can sometimes be limitations as to what logo will work with what decoration method, or at what size. That's why we have a complimentary graphic design team that works with you to ensure how your logo ends up on your final custom decorated product meets – or exceeds – your wildest expectations.
The design of your logo, specifically the size and shape, dictates the size of the logo on the final product. For example, the standard area to work with for an adult size t-shirt is 10 inches wide by 8 inches tall. However, depending on the shape and style of your logo, your logo may not max out at those dimensions. The text-only Westcliff University Athletics logo maxes out the height at about 4 inches tall when it hits the maximum of 10 inches wide.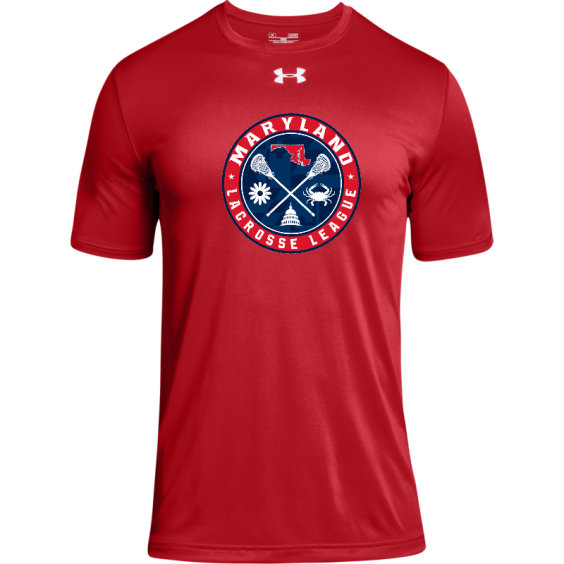 The Maryland Lacrosse League's round logo maxes out at 8 inches x 8 inches. Keep in mind when you're designing your custom apparel, the ratio of the logo might affect the finished look. For example, the Maryland Lacrosse League's logo is prints much taller than the Westcliff University Athletics logo above, because it is more of a square shape.
For children and baby apparel, there's a significantly smaller decorated area to work with. The area where a logo appears on the lapel of a zipped jacket is also quite small. Masks are even smaller. We scale up for larger products and scale down for smaller, but regardless of the area we are working with, we'll make sure to meet your expectations with the final product, even if it takes a little approved tweaking to get it just right.
Each logo is suited for a certain placement, a certain product.
We work closely with you to ensure the design is optimal for each unique project. Many customers have different logos for different uses, like one for printing on tees and hoodies, and one for embroidering on hats or bags. Check out this helpful guide on how decoration method might affect the look of your logo. We love to work with you to determine which logo is best for your particular project, and hep you update your logo if need-be so it looks great at all sizes and with all decoration methods.
Don't have a logo or design yet? No sweat! Some customers come to us starting from scratch, or sometimes with a dream and a sketch – we love that! Whatever the case, our design team is here to help our customers get the exact logo they're looking for.
We also encourage our customers to set up internal brand guidelines when using your logo in various situations. How a logo looks over different backgrounds, how it is oriented on an object, typography and font, colors, and proportion are all important when designing custom apparel. If you need help with setting up guidelines, let us know, our talented design team is happy to help.
There are multiple ways to approach a custom decorated project. We pride ourselves on our expertise and are happy to provide recommendations and options on what may be best for your project. Ultimately, we strive for standards of the highest quality. Our free graphic team is ready to work with you to ensure your product is worn with great pride!