Across the country sports teams are doing their part to promote October as Breast Cancer Awareness Month. They're spreading the word and raising money to right this deadly disease, and they doing it style. Pink style.
Breast cancer is all too common
One in 8 women will face a breast cancer diagnosis at some point, maybe while she's still a young adult, maybe later on in life.
And, guys, just for the record (and something to consider for your own continued good health), men can develop breast cancer, too. Men represent "only" about 1% of US breast cancer cases – around 2,000 new diagnoses each year. And about 400 deaths each year.
Why pink, you might ask?
Susan G. Komen for the Cure® chose pink as their designated color when the organization was formed back in 1982. In 2001 professional sports teams took up the pink flag, lending their considerable voice to promoting breast cancer awareness and holding fundraisers to support research and patient support.
The WNBA was first, using their August Fit Month to hold Breast Cancer Awareness games.
Major League Baseball picked up the ball in 2005, choosing Mother's Day as their focus. Fans donated money for every home run in the run-up to Mother's Day, and teams used pink bats which were then auctioned off. MLB also provides a free online tool people can use to assess their own breast cancer risk.
The NFL took the field in pink starting in 2009, wearing their now-famous pink apparel from gloves to socks and cleats. The NFL now uses their October promotions and fundraising efforts to fight multiple forms of cancer.
Pro sports teams have had a tremendous impact over the years. They have wide audiences and fans who want to emulate their favorite teams or individual players.
Your team can make an impact, too.
Wear pink
Encourage your players, coaches, families, fans and community to join the pink revolution, to visibly show your spirit when it comes to beating breast cancer. SquadLocker offers a plentitude of pink apparel and gear in our Breast Cancer Awareness store, and all these items are 15% off through October:
Tops
Headwear
Pullovers
Outerwear
Shorts
Plaid flannel pants
Tops for toddlers
Uniforms
Socks
Tote, backpacks and a duffel
Blanket
Face masks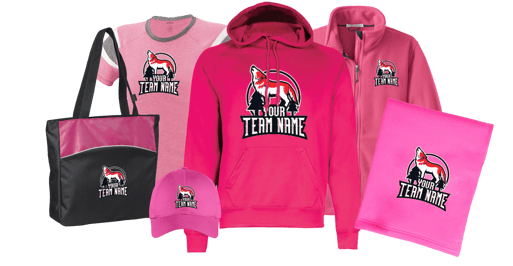 Raise money!
Your SquadLocker online store makes fundraising easy, all the time. So why not designate a special fundraiser for Breast Cancer Awareness this month? (You can raise even more money thanks to that 15% discount noted above!) Almost any items would be good for this, but if you need help deciding, here are our top 6 pink picks for fundraising.
Join the PINK OUT
When Terri Alvino Meyer died from breast cancer, her daughter Ellese was a high school senior. Devastated, Ellese wanted to honor her mother by turning her school's football stadium pink. She also wanted to raise money for the Young Women's Breast Cancer Awareness Foundation.
As captain of Mt. Lebanon High's cheerleading squad she knew something about leadership, so she persuaded authorities to say yes. That October, they went all out:
The lacrosse, volleyball and soccer teams all wore pink and helped collect money.
Athletic Director John Grogan invited the entire conference to participate, and 42 schools joined in.
They raised more than $15,000.
Every contribution to Breast Cancer Awareness Month makes a difference. At SquadLocker, we applaud every team that steps up, whether you wear pink to help spread the word, raise money to help fund a cure, or do both.
Subscribe to the Squad Blog
Join our squad in getting weekly updates on the most helpful content for your youth teams, spirit clubs, and more.