Did you know?
One in 8 women will be diagnosed with breast cancer at some point in her lifetime.
Men as well as women can get breast cancer, though it is rarer in men.
There are several factors known to increase your risk of getting breast cancer, but some people who have these risk factors never get the disease.
60-70% of people who do develop breast cancer don't have any of the known risk factors.
And that's why October is Breast Cancer Awareness Month.
For the past few years, the National Football League and other men's and women's sports organizations both pro and amateur have made a point of promoting breast cancer awareness during the month of October. This year, the NFL is using their star power to increase public awareness and provide funds to fight multiple forms of cancer.
We invite you to join our SquadLocker team in showing your support – for survivors and for ending this life-threatening disease. At the same time you can raise funds for your own school or organization. How?
Think pink! It's the official color of breast cancer awareness
Here are 6 top items to add to your store to boost breast cancer awareness. Your athletes or students, parents and community fans will love these picks – all are appropriately pink, all can be custom decorated with your school or organization logo, and we're offering all of them at 15% off during October.
What better way to show your spirit and encourage your friends and followers to join the fight to defeat breast cancer!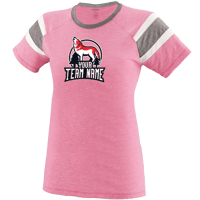 1. Augusta Ladies Fanatic Tee
Stylish and comfortable, with raglan sleeves and color-contrast detailing. Can be personalized on the back.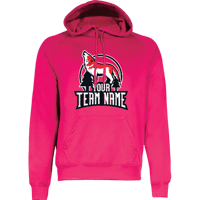 2. Badger Ladies Performance Fleece Hoodie
The perfect layer over your Augusta Fanatic tee for cooler October days. Ribbed cuffs and waistband, front pouch pocket with opening for your headset. Can be personalized on the back or a sleeve.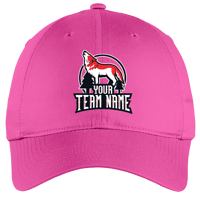 3. Nike Unstructured Twill Cap
This one's great for men who want to go pink, too. This cap has a color contrast underbill, mid-profile design and an adjustable self-fabric closure with buckle. Can be personalized on the back.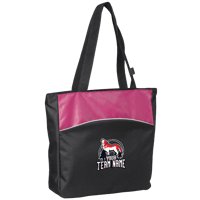 4. Port Authority® Two-Tone Colorblock Tote
Affordable and oh, so practical. The main compartment zips closed, plus there's a handy exterior zippered pocket. Web handles have elastic accessory or pen loops. Overall size: 13.75"h x 14"w x 4.25"d.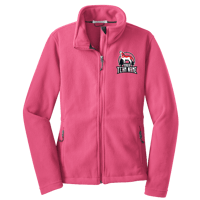 5. Port Authority® Ladies Value Fleece Jacket
Toasty, fluffy fleece makes this jacket another great choice for fall, especially since it has numerous functional and comfort features. Can be personalized on the sleeve.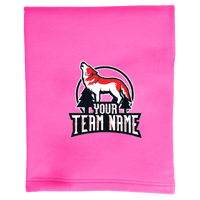 6. Port & Company Core Fleece Sweatshirt Blanket
Even if COVID-19 keeps you out of the stands this fall, this 50" x 60" blanket will be your go-to for snuggling on the couch or hanging out around your backyard fire pit. Soft and warm, pill-resistant, with mitered corners and hemmed all around.
Spread the word
Once you've stocked your store with some or all of these pink-for-breast-cancer favorites, be sure to share the news with your entire community. No one will want to miss out on this double opportunity to boost breast cancer awareness and boost your organization's coffers, too. Especially when they can do that by scoring some practical, great-looking spirit wear!
And, speaking of spreading the word, the National Breast Cancer Foundation offers a free eBook that describes common breast problems that are not related to cancer but are often overlooked. It's a must-read for women of all ages, and October is just the month to download your copy.
What else can you do?
Keep exercising and playing sports, because healthy lifestyle and good physical fitness are two well-known ways to help fend off a diagnosis of breast cancer (or other types of this disease).