Under Armour consistently churns out new, impressive athletic apparel and uniforms.
In previous years, the brand added new functionality and design to their apparel. The ArmourVent™patented mesh fabric that came out in 2013 enhanced their HeatGear® line that keeps athletes dry and cool in the heat.
More recently, Under Armour's ArmourGrid technology, used to create the new football jerseys for teams such as Notre Dame, Cincinnati, Maryland, and Auburn, is touted to be 'ungrabbable.' This 'toughest jersey ever made' is created with strong, super-durable fabric that has 4-way stretch in the side sections, sleeves, and shoulders. The material is designed to keep players cool, comfortable, and mobile.

Photo from the Official Athletics Website of the University of Cincinnati
Not only does Under Armour create apparel that is functional to help players be competitive, but athletes look good as well. New, refreshing design is apparent in the brand's uniforms it designs, as well as the gear it sells to customers online. For example, Under Armour designed superhero themed workout apparel for men, women, boys, and girls. The fun collection is called 'Alter Ego.'
Under Armour describes the superhero athletic apparel collection as:
"The best gym gear doesn't just help you work harder; it makes you feel damn near invincible—like a superhero."
Feeling like a superhero is exactly how you want you and your team to feel like when training and competing.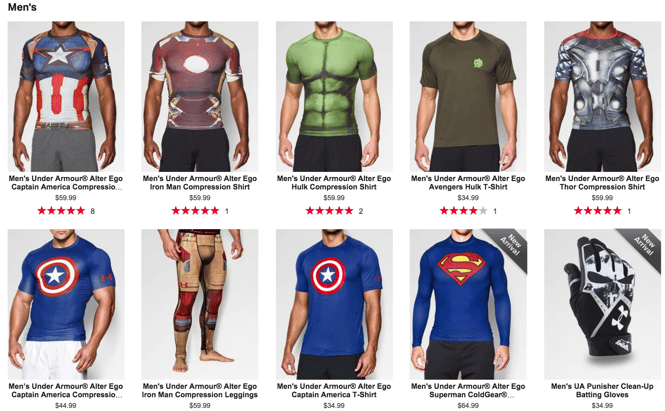 From the Under Armour Alter Ego collection
With all of the innovative design and technology built into Under Armour apparel and uniforms, it's no mystery why top athletes and teams choose the brand over others.
Dominating the Athletic Apparel Market
But don't just take it from us - look at the numbers. Under Armour's apparel sales have grown by over 20% for the past 22 consecutive quarters. This explosive growth is largely attributed to the latest star athletes who have sponsorship agreements with the brand, such as basketball player Stephen Curry, professional golfer Jordan Spieth, and American ballet dancer Misty Copeland.
The all-star cast of athletes sporting Under Armour gear, combined with the plain fact that Under Armour apparel and gear perform exceptionally well, has rocketed the brand's popularity.
Under Armour Team Apparel
So, you've outfitted your team in the world's leading team brand with Under Armour uniforms.
It's great that your team has matching uniforms to wear on game day, but what about other apparel and gear your players need for practice and games? This includes team hoodies, backpacks or duffel bags, rain jackets, practice jerseys, cleats or shoes, and other essential apparel.
You're probably thinking back to a horrible past experience when your team tried to coordinate ordering matching apparel. It took forever to coordinate with the mom and pop shop printing the garments, hunting down players and parents for money was not fun, and it seems every time you order the branding and colors appear different.
There's a much better solution. With TeamLocker™, all you have to do is:
1. Take less than 5 minutes to set up your TeamLocker™
2. Share your TeamLocker™with your players and fans
That's it - no more ordering the wrong sizes or running around with an envelope at practice to collect money. Your athletes order and pay online directly from the shop you created. Need help making sure your team logo looks just right? No problem, TeamLocker™ support will help.
Here is some inspirational Under Armour gear that our customers have designed for their teams:
It's official that Under Armour is a top leading brand in athletic apparel, and you and your athletes deserve the best. Now that you know the simplest, streamlined way to order your Under Armour team uniforms and apparel, it's time to build your TeamLocker™.