SquadLocker takes the stress out of ordering, managing, and distributing custom gear for your team, and we want to do the same when it comes to determining which sizes of sportswear are right for you and your team. Brands' sizing can vary and that's important to know when you're placing orders - whether it be for a single item or bulk orders.
PRO TIP: Remember - There are no universal standards for sports uniform sizing. One brand's 'medium' may be another brand's 'small', and every player has personal preferences when it comes to fit, so be sure to check out the following size charts before you order to ensure best fit!
With a new season comes new gear, so as you get ready to suit up for spring sports, we wanted to make ordering your uniforms and apparel even easier with this quick guide to sizing information. From baseball to softball, to lacrosse, volleyball, and basketball, we've got you covered, as we round up our quality professional brands and sizing information for each spring sport.
CHOOSING THE RIGHT SIZE BY SPORT
BASEBALL
Hit it out of the park on game day with the perfect fit.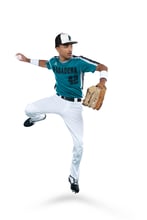 Holloway FreeStyle™ is one of our popular sublimated uniform brands for baseball. These uniforms boast breathable comfort, made of Dry-Excel™ polyester Pin-Dot Mesh. Holloway sublimated jerseys deliver superior ventilation to help keep you cool through the final inning. Holloway jerseys also feature set-in sleeves, longer length and bigger chest for added comfort. Russell jerseys and bottoms lean toward a larger, roomier fit. Fortunately, Holloway carries a wide range of sizes. If your player falls between sizes, or you're unsure of what size to select, check out Holloways adult sizing chart and youth sizing chart.
UnderArmour, a branded fan-favorite, runs on the small side. When purchasing your game day uniform, we recommend thinking about how your players want the gear to fit. If you're ordering for someone with a wide chest, UnderArmour tighter fit may be constricting… and no one wants to be restricted on the field when it's game time, so for a roomier fit, order a larger size than what you may typically select. For full UnderArmour sizing information, click here.
SOFTBALL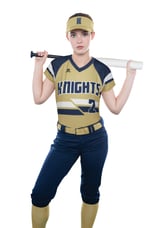 Dominate the diamond in our sublimated jerseys and bottoms from Holloway. These jerseys feature fabric with breathable stretch for comfort and mobility, allowing for maximum performance on game day. Holloway FreeStyle™ jerseys and bottoms are made of 100% polyester. With a wide range of sizes, you can choose the best fit here.
UnderArmour's softball jerseys and bottoms are both made of 100% polyester for quality stretch and comfort. Since this brand tends to run small on the sizing scale, consider ordering a larger size than you normally would, for a more comfortable, roomier fit. Still not sure you're selecting the right size? UnderArmour's sizing chart can be found here.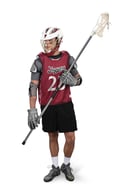 Hit the corners in a sublimated or branded lacrosse jersey and shorts.
Russell Athletic sublimated jerseys and UnderArmour branded jerseys are among the top choices when it comes to lacrosse gear. Both offer an array of sizing options, to ensure the best fit for every player. We recommend taking a look at each brand's sizing chart to see how you can expect each product to fit, before ordering.
VOLLEYBALL
Serve your best game with brands like Augusta sublimated uniforms and UnderArmour branded uniforms.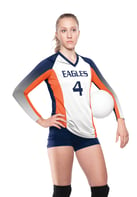 Our most popular volleyball jerseys offer different sizing and fit. UnderArmour jerseys and bottoms feature 4-way stretch construction for better range of motion. These branded uniforms have a tendency to run on the smaller size. For a more comfortable fit, try ordering one size up from what you may typically select. In addition, Augusta sublimated jerseys and bottoms offer 4-way stretch for maximum mobility. These items tend to run true to size, however we recommend comparing measurements to Augusta's sizing chart to ensure a great fit. Augusta sizing information can be found here.
PRO TIP: If you're looking for a totally custom fit, sublimation uniforms are dyed, cut, and sewn to your specifications for any sport.
BASKETBALL
In basketball, we know every shot is important and so is the way your uniform fits for game days.
Our Holloway sublimated jersey and bottoms feature maximum stretch and snag resistance, made of 100% polyester. If you're unsure of what size to order, take a look at the Holloway size chart. Measurements in the size chart are available to ensure the best fit for each player.
UnderArmour's basketball jerseys and bottoms offer a distraction-free, athletic fit. UnderArmour definitely tends to prefer their clothes run on the small, snug side. When ordering, select a larger size if you prefer to have a roomier fit. This is also true if you're ordering for someone with a wide chest, as their tighter fit may be constricting.
While we can't list sizing guidelines for every size of every product, don't hesitate to check out our previous blog post, Athletic Gear Sizing Guides (By Brand) for more tips on choosing the right sizes by brands like Adidas, Sport-Tek, UnderArmour, and more.
PRO TIP: If you order the wrong size, don't sweat it. At SquadLocker, we have a guaranteed "any reason" return policy on all gear we ship, as long as it's within six months of shipment. You can receive either a replacement product or an in-store credit on all returned items. We even include a prepaid return mailing label in all shipments to make the process easier.
Have any questions about sizing or our return policy? Just ask!