Nifty ball handling, fancy footwork, full-court awareness and defense that just says no to the opposing team. It takes practice to develop basketball skills, but teams need uniforms, too. Uniforms distinguish your team from all others. But which basketball uniforms should you pick?
You need reliable quality and performance, no matter your budget, so you can be sure all the uniform options in our SquadLocker catalog come from your favorite top-name brands. We love these brands as much as you do, for their fit, features and attention to detail that let athletes play their hardest, comfortably.
And let's not forget style because the right uniforms boost confidence. From little kids to college age, every player knows that when you look like a pro (or your big brother or sister) you feel like a pro.
Here are our top picks for basketball -- just wait till you see how cool they look custom decorated for your team!
MVP: Good Quality, Affordable Gear
Our MVP inventory is always in stock, ships in three days, and returns are hassle-free. Both of these options are from Augusta Sportswear, one of our most popular brands: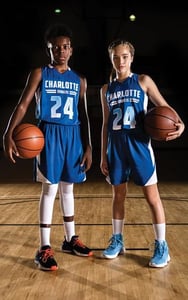 The MVP All-Star Kit - From $44.95
Jersey plus short
Moisture-wicking polyester
Tailored fit
12 colors
The MVP Starter Kit - From $63.95
Reversible short and jersey
14 colors
Multiple looks with just two items
Stock: Better Quality Everyday Uniforms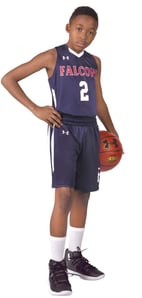 The Next Kit, from Under Armour - From $66.95
Polyester pique knit
Reversible jersey with contrasting color block accents
12 colors (short), 14 colors (jersey)
Sublimated: Top-of-the-Line, Fully Customizable Uniforms
We offer two pro-quality options:
The Freestyle Kit - From $59.95
Lightweight short and jersey from Holloway
Maximum stretch and snag-resistance
Men's, women's and youth sizes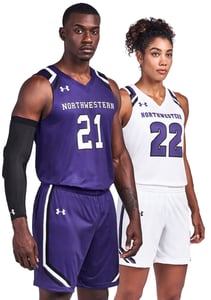 The UA Gametime Kit - From $88.95
Short and jersey feature Under Armour's signature 4-way stretch Heatgear
Updated athletic fit
Men's, women's and youth sizing
It's so easy to suit up with SquadLocker
The game should be a challenge. Outfitting your team? Always simple, thanks to your online SquadLocker store. Individuals place their own orders and receive their decorated gear in as little as three days. Court-ready. No minimums, no hassle, no contact. What a score!