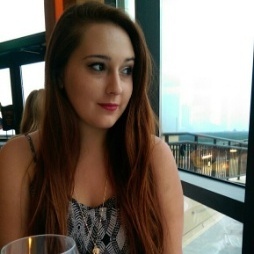 Alexandra 'Alex' Garbatini joined SquadLocker in the early stages of our growth, back in May 2016. Alex was recently promoted to Sr. Product Marketing Specialist from her previous role as Channel Support Coordinator where she did just that - supported every channel for SquadLocker's internal and external needs; from social media to partnerships. A native of Connecticut and University of Rhode Island alum, Alex exudes the characteristics instilled at SquadLocker.
What three traits define you?
ALEX: Caring, Determined, and Independent.
Why did you join SquadLocker?
ALEX: I joined because I enjoyed the collaboration among different departments. The biggest reason for joining was that SquadLocker offered me a great opportunity to get out of my comfort zone.
What is your proudest moment at SquadLocker?
ALEX: I would definitely say my proudest moment at SquadLocker is when I identified an area of the business that was lacking any initiatives, then presented a solution to key stakeholders. That area of the business is now my current job, Builder Engagement.

Now for the fun part. Who is your favorite sports team?
ALEX: The Mighty Ducks.
What is your greatest fear?
ALEX: Failure.
Where is the best place you've traveled to and why?
ALEX: Italy, specifically Florence. I enjoyed the culture and history. Basically it was like stepping into another era.
Any favorite line from a movie?
ALEX: "Safety never takes a holiday." (Paul Blart Mall Cop)

If you could be anyone from any time period, fictional or not, who would it be and why?
ALEX: I would be Hermoine Granger because she is kind, intuitive, warm-hearted, and persistent.
What is a realistic ability you wish you had?
ALEX: Sing
What TV show/movie are you ashamed to admit you love?
ALEX: The Bachelor
If you could only drink one beer for the rest of your life, what would it be?
ALEX: Lagunitas Little Sumpin' IPA

If you were an animal what would you be?
ALEX: Stuffed Animal, but not taxidermy, a plush one.
Tell us something about yourself that would surprise us.
ALEX: I was in Academic Decathlon in high school.
Lastly, what's one thing you couldn't live without?
ALEX: My dog
Alex has been with the squad for more than a year now and her expertise and experience shows. You can reach Alex at agarbatini@squadlocker.com.