Who would have thought this time last year that we'd be primarily engaging with partners, parents, students, and more all through video conferencing. Our lives have shifted from on the field or court to on, in most cases, Zoom.
And with this shift has come a number of technical challenges. What is the etiquette of virtual events? How do we properly login and navigate? We'll go through it all in this post and help ensure you make the most of your (virtual) time.
But first, why Zoom?
Zoom is one of the leading video conferencing tools on the market. It's sort of like the cloud version of three-way phone calling, instead allowing for far more guests and a focus on video to attempt to replicate in-person meetings.
How to Use Zoom: The Technicals
Step 1: Installing the Zoom App.
While it's possible to join a Zoom meeting from a web browser (Chrome, Firefox, Safari, etc), the experience is far easier when you have the software downloaded itself. The Zoom app makes it easier to participate.
Tip: You do not need an actual Zoom account to join events organized by another host. However, if you hope to host or schedule your own events, signing up for an account will allow you to do so. The free version will allow for 40-minute events. Anything beyond that would require a premium paid account.
Step 2: Accepting a Zoom Invitation.
A Zoom invitation can be sent in an email, included in the description of a calendar invite, or even messaged directly to you over text or a messaging platform. Let's dissect what you'll typically see included: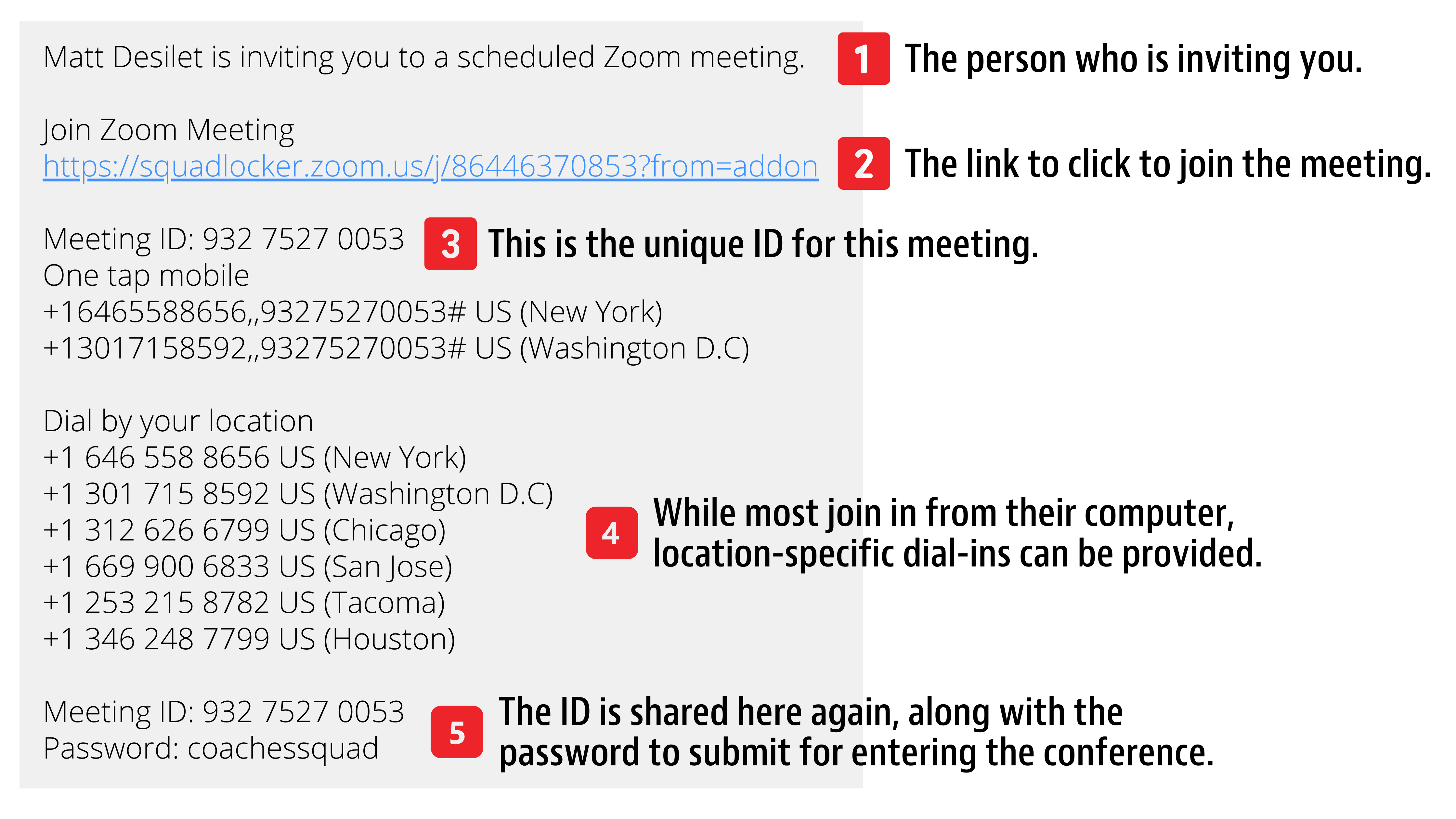 In case it's easier to read outside the image, your Zoom invitation will typically include:
1. The name of the person who is inviting you.
2. The link to click to join the meeting at its scheduled start time. Sometimes, you'll automatically be entered. Other times, you'll be placed in a waiting room until the host lets you in.
3. A unique Meeting ID. While this is typically not needed, sometimes if the meeting link gives issues, you can join the meeting directly from the Zoom App using the Meeting ID.
4. Location dial-in numbers, though most typically join from a computer.
5. A meeting password, which will be submitted to enter the conference.
Typically, the invite does not include the date and time, which is why many include it in a description for a Calendar invite.
Step 3: Joining a Zoom Event.
When the event day has finally arrived, click on the link from the invite. If you've installed the app, it will automatically open. You'll either be immediately let in, need to enter a password, and/or put into a waiting room.
If you don't have the Zoom App downloaded, the link will open in a web browser. On mobile, it works similarly. The app in this scenario would be in your mobile app store.
Two key things to keep in mind when joining:
1. You may get prompted to allow Zoom to open the software.

2. You'll see a prompt to test your speaker and microphone before officially joining with audio. This allows you to avoid having to dial in with a phone.
You're in! Now what? Let's review some helpful tips for attending.
6 Tips for Attending Virtual Meetings
As the world has moved to virtual hosting, there's a number of ways the meetings have well, not gone as planned. Whether through connection issues, improper mute etiquette, or otherwise. While exaggerated, Progressive has a comedic commercial depicting these snafus in full force.
To avoid such scenarios, and to make the most of your time, we recommend the following.
Tip 1: Join on a computer.
Yes, there is a Zoom mobile app. And yes, it makes it feel more like a phone call this way. But this isn't a FaceTime, this is a true meeting. The Zoom mobile app limits your view to four participants at a time, making it difficult to understand who is on the call or who is even speaking without constant swiping. You also appear smaller on the attendee screen than everyone else.
Tip 2: Join with video.
It's easy to treat a Zoom call like an actual call and join sans-video. If for a proper meeting or event that would have been in-person or is attended for networking, we recommend joining with video. This allows everyone to be far more engaged, interested, and get the most out of the meeting.
Tip 3: Stay on mute when not actively speaking.
Taking notes on your computer? All participants will hear. Dog barking in the background? Everyone understands in this remote-world, but it might get disruptive. Truck driving by outside? Oh boy get ready for sound disruption.
Fortunately, this doesn't mean you have to leave. Zoom allows for easy muting so you can ensure your sound doesn't disrupt conversation. Just remember to turn your audio back on when you it's your turn to speak!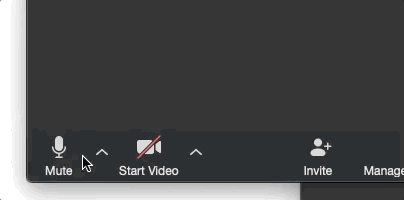 Tip 4: Use a microphone.
While you don't need any fancy equipment, sound quality is much easier for everyone in attendance if you're using headphones that have an audio input. This becomes even more important if the meeting is being recorded, as audio without a mic won't be properly recorded.
Zoom automatically names you to the group by username. If you want to make it easier for people to know who is speaking, or even what team you represent, you can adjust your name to whatever you'd like. To do so, hover over your own face in the meeting. On the bottom left you'll see how your name is currently presented. To change it, right click and select "rename" on the pop up menu.
Tip 6: Position your camera.
Position your laptop so that the camera has you center screen, ideally with ample light in the room. Ideal position is shoulders up - anything else might be too close for comfort :)
>> Bonus Tip: Use a custom Zoom background!
Have a weird background in your new remote setup? Want to simply make the call more fun? We have custom sports-themed backgrounds you can download and upload as the background image of your next Zoom call.