In all sports, youth and scholastic leagues take their lead from the professionals. From league administrators to the players themselves, people involved in youth and scholastic sports model their behavior after those who do it at the highest level.
This is particularly true in baseball, a sport with a sense of tradition that cannot be rivaled by any other. Young ball players grow up emulating the batting stances and wind-ups of their favorite stars, hoping that they can eventually have the same success. As an athletic director or manager, it's your duty to study the professionals, too.
While it's certainly important to examine big league managers' in-game strategies, you should also be noting the little things that help teams win as well. For example? The team's uniforms.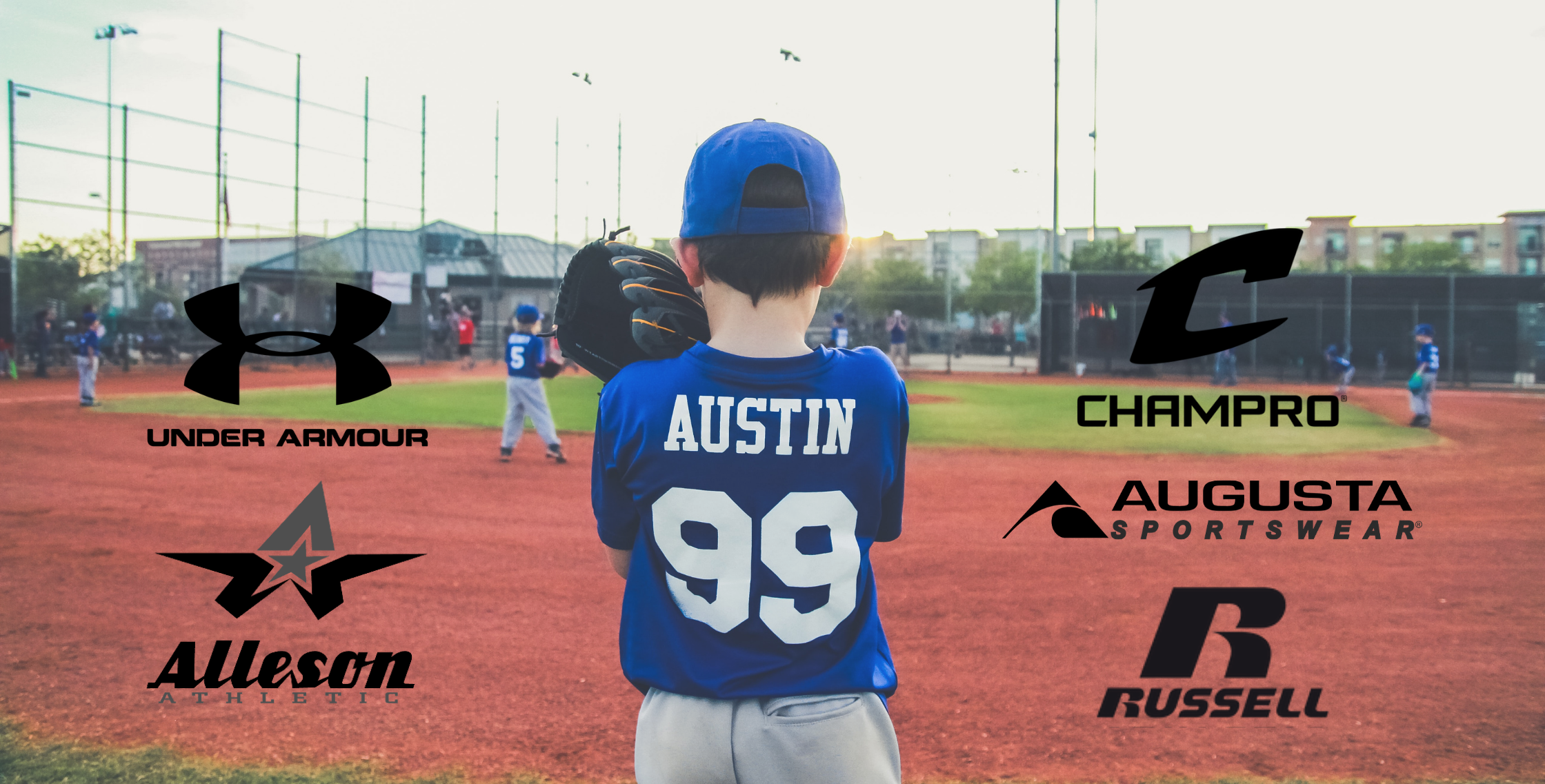 If you're coaching a T-ball team, you can probably settle for the same cheap T-shirt and hat combination that T-ball teams have worn for decades and rest assured that you haven't hurt your team's performance. But if you're managing a Little League, Babe Ruth, or high school team... you need to be able to outfit your squad in high-quality gear that allows them to not only swing and throw like the pros, but feel like them, too.
Where do you start? Here is a list of some of the four most popular baseball brands on the market.
1. Champro
Known For: Broadest selection of athletic teamwear and equipment in the industry.
Cost Benchmark: Full button jersey around $95.
Why We Like Them: High quality baseball pants ideal for running and sliding around the bases.
Champro is known for their baseball pants, which handle abrasion nicely and can feature reinforced double knees. They're a good balance of a fairly well-known brand at decent prices.
2. Under Armour
Known For: Leading brand for many American sports teams.
Cost Benchmark: Youth baseball package ranges from $85 to $130 per player.
Why We Like Them: Offers high-end options that include customized piping and button colors.
Baseball players have been gravitating to the company's high-quality gear—and plethora of price points. Like Rawlings, Under Armour offers gear at a wide range of prices.
In youth sizes, their Lansdowne jersey and Leadoff pants can be had for approximately $25 each, meaning a whole baseball package (jersey, pants, socks, and hat) can be purchased for less than $85 per person. As mentioned, the brand also offers high-end options that can include customized piping and button colors. These types of uniforms usually cost around $130 per player.
3. Alleson
Known For: Custom sublimated athletic apparel and game uniforms.
Cost Benchmark: Generally $50 for 2-button jersey.
Why We Like Them: Lead the market in the use of sublimation technology.
Sublimation is a printing process that uses heat to essentially bring ink and fabric together as one. Not only is Alleson known for this, but they are also widely known in the industry for their innovative designs and manufacturing expertise and flexibility.
4. Augusta
Known For: Their mission to inspire a physically fit lifestyle.
Cost Benchmark: Generally $44 for 2-button jersey.
Why We Like Them: Leading designer, manufacturer, and marketer of high-performance active wear and spirit wear.
Augusta owns a number of brands in their suite of offerings, including Russell Athletic and Holloway. Even just the Augusta Sportswear line offers a wide variety of sizes, colors and designs. For kids, they specifically cite "moisture-wicking fabrications, durable double-stitched construction, tag-free labels, and movement-enhancing cuts."
5. Russell Athletic
Known For: Soft and comfortable fabrics.
Cost Benchmark: Youth jerseys can be as low as $20.
Why We Like Them: High performing materials use moisture wicking technology to keep you cool during the hottest days of summer.
Russell Athletic is a brand of Augusta Sportswear. Like Under Armour, Russell Athletic isn't baseball-specific, but it is still very popular in the baseball community. Teams looking to personalize their uniforms should consider this brand. While Russell had a temporary hiatus from making baseball uniforms, they're back and available for orders.