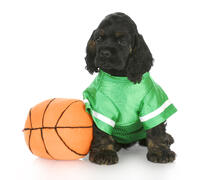 Ugh, stuck with uniforms again. It's a parent volunteer's worst nightmare. Well, maybe that's being a bit dramatic, but when you're stuck with the job of outfitting your kid's youth basketball team, you've really hit the bottom of the volunteer barrel. Why? Because choosing and ordering youth basketball uniforms for a dozen different kids can be a serious pain in the neck. You have to:
Choose a uniform style and brand that matches your team's image and your budget.
Identify the proper size for each player.
Organize names and numbers for each player.
Collect payments from the other parents (making sure they give you the right amount).
And, assuming you've done all that correctly, there's no guarantee you'll get the uniforms you ordered by the time you want them. If your uniform provider screws up the order and you end up with 10 smalls instead of 10 larges, you have to send them back, wait for your dealer to process the return, decorate the new uniforms with names, numbers, and your logo, and ship them back to you.
Plus, there's the pressure from the other parents. They want their kids to look good in their basketball uniforms. They're paying for a quality team experience, and like it or not, good-looking youth basketball uniforms are part of that.
All of these are good reasons to avoid uniform duty. Let someone else do it. Who needs the headache? Unfortunately, sometimes uniform duty just lands in your lap and there's nothing you can do to prevent it. You can make it easier on yourself, however, by choosing to work with a modern team dealer that understands youth basketball and the frustrations of a parent volunteer like you.
Here are some of the characteristics to look for in a team dealer for youth basketball uniforms:
Team gear and apparel experts. You're just a parent; you don't know how to shop for team apparel. It's tough choosing the right brands, fabrics, and styles to fit your team's budget and performance needs. Look for a team dealer that knows youth basketball inside and out and can work with you to select the perfect apparel for your players.
A web-based system for organizing sizes, names, and numbers. In the age of the Internet, ordering youth basketball uniforms should be easier. So why do so many dealers still rely on paper-based order forms or faxes? Find a team dealer that lets you order online and uses their online ordering system to allow you to keep track of names, numbers, and sizes. The system should also allow parents to submit their payments online, saving you the burden of constantly hitting them up for money.
A quality check and a customer service group. Poor customer service from their dealer is one of the biggest frustrations for youth basketball uniform buyers. Didn't get the sizes you asked for? Good luck trying to exchange them. Haven't received your uniforms yet and the season starts in two days? Sorry, no one is available to take your call right now. Your team dealer should have a customer service team standing by, ready to help you if there is a problem with your order. They should also perform a quality check before shipping each order, to make sure they're sending you exactly what you asked for.
If you got stuck with youth basketball uniform duty, we would be happy to help make your life easier. Give us a call or contact us online. We also have the perfect guidebook for you, "Cost Reduction Methods: A Guide for Reducing the Cost of Team Sports Gear, Apparel, and Uniforms." Download it for free by clicking on the banner below.