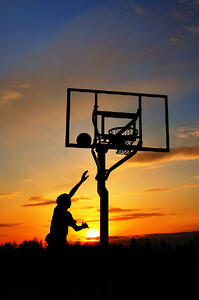 Youth basketball can be a challenging sport to outfit. Some kids grow faster than others, so the height and size of your players will (most likely) vary significantly even if they are all the same age. Having an apparel company that can meet your youth basketball team's uniform needs is vital if you want to field a squad that looks and feels good on the court.
Adidas offers some of the best youth basketball jerseys on the market. One such jersey is the Adidas Climalite® Team Speed Jersey and Short, which is available for both genders (with slight style modifications) and is worn by colleges such as the University of Kansas and the University of Louisville. With an ultra-light cationic dyed polyester interlock body, this uniform feels almost weightless on players. Moreover, the contrasting color blocked shoulder panel made from lightweight breathable mesh allows air to flow freely through the uniform, keeping your players cooler. As one of Adidas's premiere uniforms, this jersey is a great option for older, more intense youth basketball teams, particularly those that like to play an up-tempo, fast style.
Similarly, the Adidas Climacool® Crazy Light Jersey and Short (available to both genders) will provide your team with the light, breathable uniforms that make your players feel faster and more agile on the court. The cationic dyed poly interlock front and the engineered Climacool® Rev 30 mesh back combine to form a stylish and breathable jersey top. Your players will likely recognize the design of these jerseys; they are built to the same specs as NBA, WNBA, and NCAA jerseys. The shorts that accompany the top are made out of cationic dyed woven twill and also have cationic dyed hydro mesh panels. If your players want to look like their favorite professional and college basketball players, then these youth basketball uniforms are a good choice.
Adidas Climalite Practice Reversible Jersey
The two uniform models above are certainly high-quality, but they come at a higher price than some can afford. The Adidas Climalite® Practice Reversible Jersey is a terrific option for youth basketball programs that want to look good but also need to be mindful of tight budgets. Though they are called "practice" jerseys, that label is only truly applicable to the pro and college games, which have enormous amounts of money to spend on their teams' gear. These jerseys can easily be worn as game uniforms; they are 100 percent polyester mesh and have a two-layer reversible design, a color side that features three stripes, and an Adidas performance logo on both sides. Pairing these jersey tops with the Adidas Climalite® Practice Short allows you to save on jersey costs.
All of the youth basketball uniforms that Adidas offers can be bought as a part of a package available from SquadLocker. By buying your school's team uniforms in one large order, you can save money on every sport. Learn more about SquadLocker's good, better, best packages here.