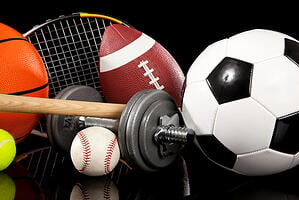 One of the most consistent cost drivers in school team sports is the price of gear, uniforms, and apparel: anything your team's players and coaches wear that bears your team or school logo. While the summer is approaching, coaches, athletic directors, and equipment managers are already in the midst of making their purchasing decisions for the fall season. In school athletics, that includes football, cross country, field hockey, soccer, and volleyball. This could be the season in which you save your school sports program a ton of money by changing the way you purchase apparel and uniforms.
Choosing and partnering with a team sports dealer is a simple process that can lead to a large amount of savings. There are numerous options for purchasing customized team sports apparel, but team sports apparel isn't the only thing team dealers do. They're the experts on team sports with the deep inventory to provide the styles and brands that fit your school team's budget and performance goals. The following are three ways team sports dealers can help your school athletic program save money:
1. Team dealers will help you make the most of your school's bulk buying power
Does your school's football team buy its uniforms from a different provider than your field hockey team? Does your cross-country team wear different brands than your soccer teams? If either of these scenarios—or ones like them—are true, your school is missing out on the opportunity for deep discounts on team apparel and uniforms from bulk buying. The combined power of your school's entire athletic program is its hidden strength. Team dealers will usually offer discounts and volume rebates for bulk purchases and the larger the order, the greater the savings. They can also steer you toward brands—like Adidas and Under Armour—that provide free merchandise to schools and leagues for reaching very low purchase commitment levels.
2. Team sports dealers will help you choose the right styles and technical features for your budget
Team gear, apparel, and uniforms come in an extremely wide range of style and material choices. To get the most out of your budget, your purchases should be guided by the specific needs of your team—your football team's performance in cold weather, for example, or your soccer coaches' desire for waterproof jackets to wear on the sideline. A team dealer will have not only the inventory to provide this type of gear, but the expertise to help you decide what your team really needs and what it can live without.
3. Team dealers have access to a wide range of leading brands and quality alternatives
Team sports apparel name brands, like Adidas, Nike, and Under Armour, are appealing to your athletes because of their reputation for excellent performance, aesthetic value, and coolness factor. But top-tier brands come with a premium price. As you're probably aware, there are some very high-quality challenger brands that offer the same level of performance for lower prices. Of course, the coolness factor may not be the same with these brands, but why not mix and match? Your players will be happy to wear Nike on top and a challenger brand on bottom, where the brand is less noticeable. Because they have a deep inventory and expertise on the ins and outs of every team sports apparel brands, team sports dealers can help you make the right decision here, too.
It's not too late to make some good purchasing decisions that will save your team, league, or athletic program money on the fall season.
For more ideas, download our free resource for coaches, athletic directors, equipment manager, and parents, "Cost Reduction Methods: A Guide for Reducing the Cost of Team Sports Gear, Apparel, and Uniforms."