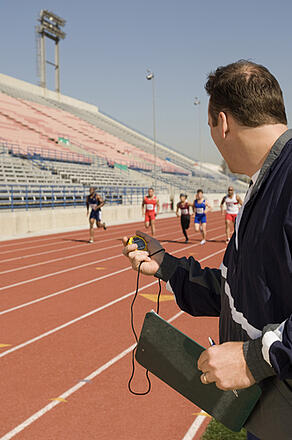 Coaching a team of young athletes, administering a league, or overseeing a high school sports program can be very rewarding, but along with the excitement of game day and the opportunity to make a difference in the lives of your players comes the unwelcome task of managing your budget. You wish you could give your athletes everything but, especially now, you're frequently required to make tough purchasing decisions that balance your budget obligations with your desire for the best in team gear and apparel.
In sports, players and coaches are always looking for a competitive edge. The same strategy applies when you're trying to work within a limited budget. By making the right decisions on branded team apparel and uniforms you'll have money left over in the budget for other things. But how can you be sure you're making the right decisions? Ask the experts. A team dealer is an apparel provider that specializes in team sports. A good team dealer is a one-stop shopping source, with the inventory, technology, and, above all, expertise to help you save money and get the most out of your uniform and apparel budget.
Team dealers can help you:
Save through aggregate purchasing. When it comes to team apparel buying, there's strength in numbers. Often team dealers offer discounts for bulk buying (the large the order, the greater the savings), and are ready and willing to help you band your program's teams together for savings.

Identify cost-effective styles. Manufacturers keep some styles around forever and others come and go. A knowledgeable team dealer will know their product lines' redesign dates so they can guide you into styles that will stay consistent for three to five years. Because you will only have to purchase fill-in gear for new players, this will reduce your overall annual purchasing needs.

Mix and match brands. Young players always want the most well-known brands, but those are not always the most affordable. Fortunately, there are some excellent alternative brands out there that perform just as well, if not better. The best team dealers have a deep inventory of leading brands and quality challengers, and they'll help you pick the right combination for cost and performance.

Choose the right decoration method. There are numerous ways to decorate your team gear with logos, names, and numbers at any price point: sublimation, silk-screening, embroidery, heat applied graphics. Team dealers will know which methods fit with your budget and will stand up to the rigors of your sports.

Set up a team fan store for fundraising. Online fan shops can be an excellent source of revenue for your team, league, or athletics program. A fan shop hosted by your team dealer will give your fans an easy way to purchase your iconic apparel and will give you an easy way to ease your budget burden.
Strategies for Team Apparel Savings
To save the most money on team gear, you need a plan. A team dealer can help you with that. For more information on how, download our complete guide, "Cost Reduction Methods: A Guide for Reducing the Cost of Team Sports Gear, Apparel, and Uniforms."