And just like that, another year has come and gone… well, almost gone.
As we gear up for a new year, we wanted to take a look back at the last 12 months. From new partnerships to a new office space, to navigating a global supply chain crisis, there is so much to reflect on and celebrate in 2021, and even more to look forward to in 2022. Just like many of our teams, schools, and organizations, the SquadLocker team is grateful that this past year has allowed us to be together again, see our customers return to sports, school, and work, and return to a bit of normalcy that was lost in 2020. It's been a big year for us all - so let's celebrate it and take a look at what went down in 2021.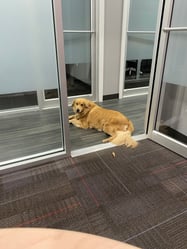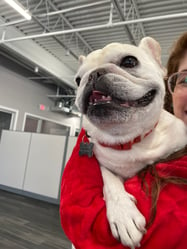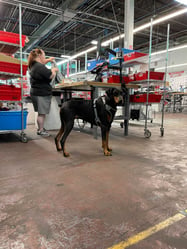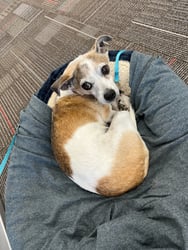 As many of our customers excitedly returned to the field, classrooms, and activities, our SquadLocker team joined in on the excitement, finally settling into our brand new office space in Warwick, Rhode Island. Here, we have been able to step up our game even more with a sweet new space - and did we mention it's dog friendly?! Let's just say the dogs love it just as much as our team does.
Next up, SquadLocker established a partnership with
3STEP Sports
- the nation's largest and most impactful youth sport
ecosystem,
serving
over 2.5 million athletes in over 40 states. Our partnership with 3STEP is transforming the way participants and administrators manage their
decorated apparel needs, ultimately helping their coaches and support staff to spend less time managing uniforms and apparel, and more time investing in their players.

In 2021, SquadLocker was also named a key service and apparel provider for rSchoolToday, a cloud-based software solution company serving the K-12 market. Through this partnership, rSchoolToday integrates apparel fulfillment across their platform, serving over 8,700 schools, districts, colleges, and universities, and 15 state athletic associations. rSchoolToday's clients are able to take advantage of our game-changing e-commerce software and on-demand fulfillment services, alleviating the traditional burdens administrators face when it comes to managing, ordering, and distributing apparel. Through this exclusive partnership, rSchoolToday clients can set up digital storefronts that never close, allowing students, athletes, fans, and families to directly purchase spirit wear, sports uniforms, and club apparel, and have it delivered to their door with no order minimums.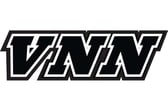 SquadLocker also partnered with VNN, America's largest and fastest growing high school sports communication platform. VNN is the exclusive partner of over 15% of all US high school athletic communities helping connect the high school sports experience and products onto a single platform for passionate parents, athletes, fans, software providers, and athletic professionals across the country. Both VNN and rSchoolToday have thousands of institutions including schools and universities, using their platforms. In partnership with SquadLocker, we are committed to serving each institution to help students and school community members reach their full and best potential.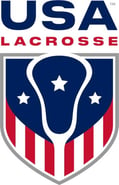 As a leading provider of online tools and services for teams and organizations to manage and access custom apparel, team gear, and spirit wear, SquadLocker was named an official partner of the US Lacrosse National Team Development Program (NTDP) in 2021. SquadLocker is the "Official Apparel and Uniform Supplier" for the NTDP, including the USA Select teams. Through this partnership, SquadLocker will provide a direct-to-player custom gear solution, in addition to high-quality custom uniforms and apparel for these elite youth athletes, coaches, and their families, nationwide. SquadLocker was also a virtual exhibitor at the US Lacrosse Convention in 2021, where thousands of lacrosse coaches, officials, and fans experienced the sport's biggest trade show, virtually, and had the opportunity to learn more about our partnership.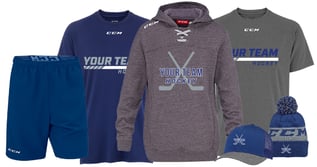 At SquadLocker, we are constantly growing and so is our product line-up. In addition to new partnerships, SquadLocker introduced new products in 2021, serving up new, fully customizable, fan-favorite apparel and accessories from top brands, CCM and Summit. With new products, we also made single unit sublimated uniforms available. Custom dyed, cut, and sewn, sublimated uniforms can now be made-to-order - meaning we eliminated any worries over discontinued styles, unexpected delays, inventory issues, or even requirement for bulk ordering. With single unit sublimated uniforms and new product launches, SquadLocker changed the apparel game in 2021.
While we continued to offer game changing uniform solutions, we also faced navigating through a global supply chain crisis. The supply chain challenges that consumers faced over the last year certainly caused stress in the apparel market, leaving many customers and administrators unsure if their players would have team wear and spirit wear, or even a uniform come game day. At SquadLocker, we leaned into our strong, strategic vendor agreements to ensure our customers and teams weren't left pulling together uniforms and team gear from scratch or t-shirts and permanent markers. It was our goal to deliver. Our team accounted for an array of scenarios, placing ourselves in a position to meet existing demands and support even more, ensuring that our customer' needs and expectations were fulfilled.
Overall, 2021 has been a year of expansion, growth and dedication. From launching new products and brands, to establishing major partnerships, and remaining dedicated to our mission of being a game changer in the custom apparel industry, 2021 has certainly been a year for the books. At SquadLocker, we are constantly seeking growth and innovation through our partnerships and technologies, to reinvent the way that teams, schools, and corporate organizations design, purchase, and manage customized apparel. With a new year, we look forward to even bigger growth, new relationships, and disrupting the custom apparel industry as an all-in-one solution.
Wishing a happy and safe New Year from our SquadLocker family to yours!
Not a member of the Squad yet? See why many organizations are turning to SquadLocker to be their full-service, custom apparel solution with features like no minimums or order windows, fast-fulfillment, and direct-to-player shipping. SquadLocker is changing the custom apparel game.