A uniform may just appear as material and stitch work but its value is transformative. Not only does a uniform help identify players on the team and shows equality among players in action and on the bench. The uniform brings teams together win or lose and reflects their pride in one another as they pursue a common goal. When a uniform is late, lost, or wrong the whole team is impacted.
It's hard to believe that just 4 years ago SquadLocker, (champion of teams big and small #WeLoveTeams), sold its first custom-decorated team uniform.
While SquadLocker had already established a process to ship custom-decorated items directly to individual players when ordered, the uniform process was always the end game. "Our mission has always been to empower teams, leagues, and organizations with our tools and services. On February 17th, 2019 we began to fulfill that promise more deeply," said Gary Goldberg, Founder, and President of SquadLocker.
"We knew we had to solve the struggle coaches, athletic directors, and apparel coordinators were dealing with. Getting uniforms was a logistical disaster negotiating long lead times, chasing down payments, handing out items one by one, and struggling to fix orders gone wrong after the order window had closed. It's a sad day when a kid doesn't get to play because his uniform isn't ready for the game…. when we sold that first uniform, things changed, it was a proud day for the company and for me."
Historically, SquadLocker has worked with top brands for uniforms and custom-decorated items, but this year, the company took a giant step toward its mission. Today, SquadLocker announced the launch of SquadGEAR™, a brand new, wholly-owned line of sublimated uniforms.

In the current market, sublimated decoration has become the standard for high-quality uniforms. Sublimation allows for far bolder designs and colors as well as excellent durability to color fastness and laundering due to the decoration being dyed into the fiber as opposed to applied to the fabric. Goldberg continued on the new sublimation line, "The most exciting thing about SquadGEAR is that we manage the sublimation design process ourselves so that we can ship fully custom uniforms in 3-5 days. Our competitors ship in double that time and sometimes more based on seasonality."
Additionally, SquadLocker's web application, Teamlocker has evolved to provide a more intuitive uniform ordering process.
"In Teamlocker, you can manage and store team data for accurate personalization on uniforms and spirit wear, plus you can communicate with players, and use pre-paid vouchers to simplify uniform ordering. We've made these improvements to more efficiently and effectively manage clubs with our tools," said Goldberg.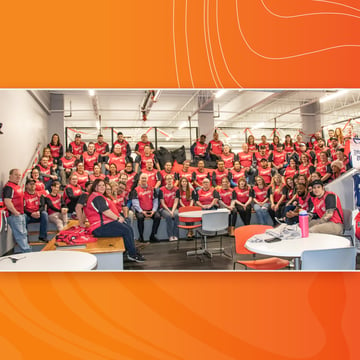 As a team, SquadLocker celebrated Uniform Day in the office. Dressed in custom-decorated SquadGEAR baseball uniforms, leadership and staff shared personal memories they had of wearing uniforms for a team or as a fan.