Whether you are an educator trying to keep up with building skills for students that will last, or a video game enthusiast excited about eSports - get excited about STEM Fuse.
STEM Fuse is a new way for educators and schools to introduce STEM curriculum quickly and easily. Even better, STEM Fuse has developed a curriculum for eSports featuring SquadLocker.
So, what is eSports?
eSports brings to life the competitive world of video gaming. Competitors from different leagues or teams face off in video games like Fortnite, League of Legends, and Madden NFL, to name a few. These gamers provide entertainment across the world with fans watching and streaming these competitions.
With the world of competitive video gaming (eSports) growing rapidly, the gamer-athlete role has become more valuable, the engineering of video games more important, and the ability to set up our youth for success even more necessary.
What is the role of eSports in STEM education?
Science, Technology, Engineering, and Mathematics (STEM) is an academic discipline utilized by many schools across the nation. With a growing popular interest in eSports and a hunger for STEM educational programming, STEM Fuse developed a fully featured digital platform and curriculum to fit every K-12 classroom.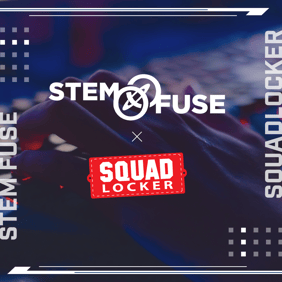 Partnering SquadLocker with STEM Fuse
SquadLocker has had a long history with sports programs, providing a uniform and custom apparel technology solution that makes it easy for teams to manage apparel. Partnering with STEM Fuse, we can share our technology solution with students through curriculum and support eSports teams with sublimated team uniforms.
For more on STEM Fuse, check out the Past Our Prime Show's interview with Tyler Tatge, Vice President of Platform and eLearning Services at Stem Fuse. Past Our Prime podcast is hosted by Tip Fairchild, Vice President of Business Development at SquadLocker, and former New England Patriots All-Pro center, Dan Koppen.
Interested in starting an eSports Curriculum at your school? Check out the STEM Fuse offerings.
About STEM Fuse
STEM Fuse is a one-of-a-kind, revolutionary education solutions provider with a fully featured digital platform and curriculum to fit every K-12 classroom. STEM Fuse curates custom, groundbreaking - STEM, Computer Science and CTE curriculum. Educate, our LMS platform, levels the playing field for all students - A curriculum and custom digital learning platform that can be taught in any district, school, or club - from any device. XLeap, our Lifetime Digital Portfolio and Career Highways Workforce Development platform – we can truly take students from K-Career!