When presented with a challenge so great it could consume you, what do you do? How do you raise your game?
If you've played competitive sports, you've dealt with challenges. The moment you realize you're facing a tough opponent, or when your own physical abilities are put to the test. Strength comes when the challenge is met head-on with teammates by your side and a desire to win for the team you play on.
In everyday life, challenges come in different forms. And whether in the arena or in daily life what matters is the support of a strong team.
"At SquadLocker, we love teams and we stand behind this in everything we do. Teams support one another through the greatest of challenges. This Giving Tuesday we at SquadLocker felt it was important to partner with an organization that represents and honors our love of teams while supporting a cause that touches our community. This year we are proud to partner with the HEADstrong foundation team to support cancer patients and their families," Gary Goldberg, founder & CEO of SquadLocker.
HEADstrong founder Nicholas Colleluori'

s Story
Nick Colleluori had never-give-up mental toughness, determination, and aggressiveness that was unparalleled. As a young athlete, he was accepted to Hofstra University on an athletic scholarship joining their Men's Lacrosse Program. As a freshman, Nick was diagnosed with Diffuse Large B-Cell non-Hodgkin's Lymphoma, a blood cancer affecting the lymphatic system. With a resolute attitude, Colleluori battled cancer, undergoing chemotherapy, radiation, and a stem cell transplant, along with experimental treatments.
HEADstrong Laces
While weathering a 40-day inpatient stay at the Hospital of the University of Pennsylvania to undergo an autologous stem cell transplant, HEADstrong founder Nicholas Colleluori began to strategize and develop an awareness item to unite athletes in the fight against cancer. Colleluori wanted to tie people to the cause and thought that shoelaces were the perfect metaphor. Colleluori envisioned athletes, teams, supporters, and survivors from across the country proudly lacing up to fund essential programs focused on improving the quality of life for cancer patients and their families.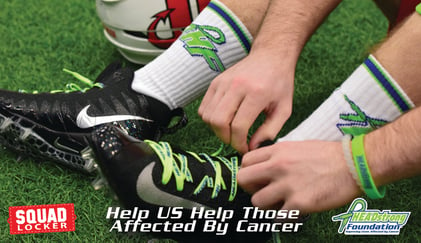 The lime green laces would signify the awareness color for non-Hodgkin's Lymphoma and he believed that the vibrancy of the color would aid in visibility and awareness. Colleluori would spend the last months of his life relentlessly constructing the framework of the HEADstrong Foundation (HF). The organization would be anchored by lime green HEADstrong laces, which have become HF's primary awareness platform in the 15 years since his passing on November 28, 2006, helping raise over $26 million to assist more than 23,000 families affected by cancer.
As the 2007 collegiate men's lacrosse season drew near, Coach Chris Bates of Drexel University approached the Colleluori family about taking the field in the laces for their first televised home game against the Virginia Cavaliers. Just as Colleluori predicted, the vibrancy of the lime green laces intrigued and excited commentators, spectators, and viewers alike. People began to ask, "Why are Drexel wearing lime green shoelaces?", and just as Colleluori predicted, word began to circulate about the HEADstrong Foundation. One week later Colleluori's alma mater, Hofstra University, wore them, followed by Princeton University, and Duke University and soon thereafter professional, collegiate, high school and youth teams from across the country joined the HEADstrong movement by Lacing Up.
Today, the laces have been revered as a symbol of hope and strength uniting athletes, survivors, and supporters to be relentless in the fight against cancer.
Watch What The Laces Mean To Me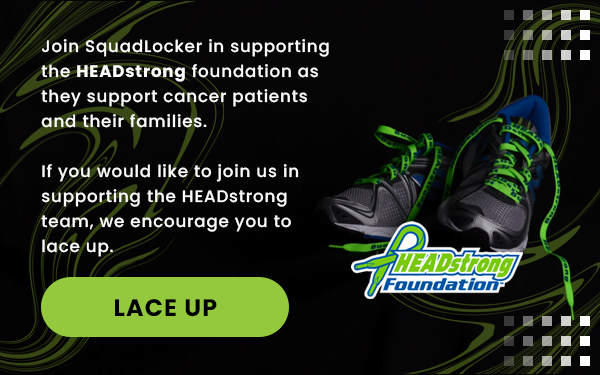 About Nick
Nicholas passed away on November 28, 2006, after battling cancer for 14 months. Today, the Colleluori family, the HEADstrong staff, and volunteers carry out Nick's vision to support thousands of patients nationwide. Read his full story here.
Learn more about the HEADstrong Foundation here.
More on HEADstrong Foundation
The Past Our Prime podcast team sat down with Michael Colleluori, Nick's brother and the Vice President of the HEADstrong Foundation. Check out that full interview here.