At SquadLocker, we've put customer service at the forefront of our business model. We're growing rapidly because we're constantly exploring ways to give you what you want. This isn't just a talking point for us. We're legitimately proud of our customer service, and our sincere hope is that every time a customer interacts with us, they walk away thinking it's one of the most positive customer service experiences they've ever had.
Whenever you contact us, whether for questions or sales or (occasionally) problems with orders, you're working directly with real live human beings right here in Rhode Island. They're working customer service because they love making customers happy, and that's what inspires them to come to work every day.
Meet The Team: Natalia, Cassandra, and Mike
Our core Customer Service team is comprised of Natalia, Cassandra, and Mike. They've all got their own reasons passionate reasons to deliver excellent customer service every time.

Whenever Natalia receives a call, she thinks about all the past bad customer service experiences she's had, and strives to deliver higher levels. She thinks like a customer, understanding their point of view, because she's been a customer suffering poor support. She treats her customers like she'd want to be treated, if the roles were reversed.
Mike draws on his own experiences with sports. He played football and baseball through High School and into college, and now he


has a daughter who's following his path into sports at her own school. He's experienced firsthand the frustrations that accompany sports equipment procurement and always strives to give the customer an experience that's far better than any they have previously experienced.

For Cassandra, it's all about the challenge. Every problem encountered by a customer is a problem that needs to be solved as quickly as possible, and her job satisfaction comes from solving those problems each and every time. When approached from this perspective, customer service becomes a highly rewarding job!
Of course, great attitudes in customer service alone aren't enough. They need to be backed up by great policies which allow our customer service team to excel every day.
SquadLocker Goes The Extra Mile To Make You Happy
Currently, SquadLocker has some of the most customer-friendly policies in the market. Items can be returned and exchanged for up to six months after purchase for any reason, for either item-for-item exchanges or in-store credit. To our knowledge, no one else has a policy nearly this forgiving.
No matter what problem you might have, we'll take the item back and do whatever we can to make it right.
Beyond that, we're consistently looking to improve our own processes, based on customer feedback, to give you the best possible options and experiences when purchasing team gear.
In just the past few months, we've endeavored to:
Always follow up with customers after a service interaction, to ensure they're satisfied with the service received.
Continue expanding our range of shipping options, to get products to you faster at reasonable prices.
Improve quality control and communications with our third-party providers to ensure every item shipped is first-rate.
Always keep promises to call back when promised.
Speed up turnaround times on orders.
Add more information to the website, so that you know exactly what you're getting when you order from us.
And the results have been awesome!
From (Less Than) Zero To Hero
Last year, we partnered with Net Promoter -one of the top names in the field- to begin measuring our customer satisfaction. Our first round of scores showed we had a lot of room for improvement, with a net score of -3 (out of -100), meaning more customers were dissatisfied than not.
In only [SIX] months, that's become a +38. The scale goes to +100, but even a score of +50 is considered excellent for any business. And you know what? It's our goal to hit that +50 by the end of the year!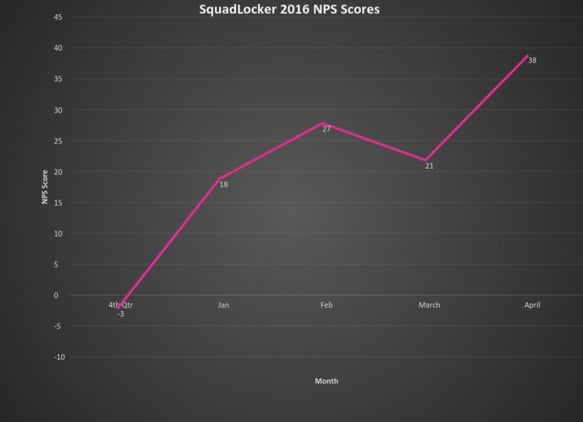 We can't do that by paying lip service to customer service. We can only do it by letting Natalia, Cassandra, and Mike do what they do best: Ensuring you get the best possible customer service on every interaction with us.
So if you're looking for a provider for your team's gear, you can be assured that when you work with SquadLocker, we'll be going above and beyond to assure you are absolutely satisfied with the experience. We're becoming one of the top names in our field thanks to you, and that's something we won't forget.