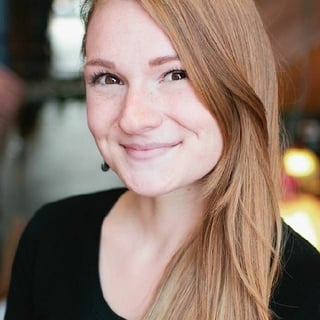 A native Rhode Islander, Kayla Vallone brings a fun-loving attitude, hard work, and amazing artistic abilites to SquadLocker everyday. Her knowledge and experience with art, design, and crafts has assisted our office beautification project. After receiving her B.F.A. in Ceramics and Art History, she quickly navigated her way into graphic design, which ultimately landed her a job in Art Services.
Why did you join SquadLocker?
KAYLA: I enjoy the field of work the company offers. Also, everyone here is extremely nice and welcoming.
What is your proudest moment at SquadLocker?
KAYLA: In pre-production, we aim to have an extremely low error rate. We recently dropped out error rate down to a 2% margin of incorrect logo reviews. Essentially, we've greatly improved our logo review process, which, in turn, helps our customers quicker and with less issues. We're also only a team of four, so it's amazing to trim the margin this low.
What advice would you give to recent new hires?
KAYLA: Find out what everyone does. It will help you in the long-run, as we all end up working with each department at some point.
If the company was a Taco, what ingredient would you be and why?
KAYLA: I would be the shell. The shell is the base, making things work behind the scenes. The shell makes sure the whole taco gets to your mouth - correct as possible.
Now for the fun part. Who is your favorite sports team?
KAYLA: Boston Bruins
Where would you like to go on a dream vacation?
KAYLA: Thailand
Would you rather be a tiny elephant or a giant hamster?
KAYLA: Tiny Elephant

What is your biggest pet peeve?
KAYLA: When the toilet paper is facing the wrong direction!
What is the weirdest/unexpected job you've ever had?
KAYLA: I built two kilns. Yep, kilns.
What is the one thing you cannot resist?
KAYLA: Tortilla Chips
If you could only drink one beer for the rest of your life, what would it be?
KAYLA: Switchback

If you were on death row, what would your last meal be?
KAYLA: Peppermint Ice Cream from Newport Creamery.
If you were stuck on an island what three things would you bring?
KAYLA: Fire starter, a Yurt, and a notebook.
If Hollywood made a movie about your life, who would you like to see cast as you?
KAYLA: Reese Witherspoon
If you'd like to learn more about how Kayla and her team assesses your logo for production, you can email her at kvallone@squadlocker.com.