Order by December 6 to assure delivery by Dec. 24!
This is the last weekend – December 5-6 -- for shoppers to buy gifts from your online SquadLocker store and get guaranteed delivery by December 24th. Are they finding everything they need? We know you don't want to disappoint anyone who is hot on the trail of the perfect holiday gift!
Store managers are Santa's favorite helpers
You know exactly what your shoppers want. In fact, you're hoping to get some yourself, aren't you? We're talking about team spirit wear. After all, holiday spirit and team spirit have a lot in common:
Focus on family and friends (your personal team, right)
Camaraderie and sense of belonging
Giving gifts, for the pure joy it brings (just like applauding a teammate's great play)
And what better way to gear up to look great as we enter 2021 than by gifting custom decorated team wear!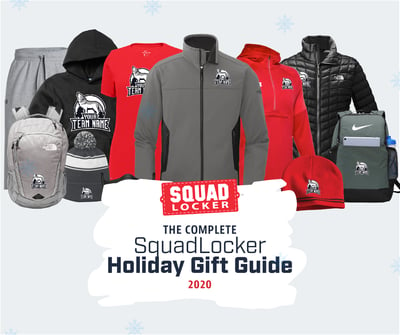 But time's a-wastin' and you don't want to drop the ball
You'd best get your elves busy stocking your store with delectable last-minute sugar plums. Sure, they made a list weeks ago, but now it's time to check it twice, to be sure no treats were overlooked.
That's easier than you think, thanks to our SquadLocker Holiday Gift Guide. It's packed with gifts that are perfect for everyone on anyone's list.
You don't even have to know anyone's size. You just have to make sure your store's inventory offers sure-fire favorites for kids as well as adults big and small, along with plenty of one-size-pleases-everyone accessories. Just a few great ideas:
Tees with short sleeves or long
Hoodies and half-zips
Sweats
Outerwear
Headwear
And don't forget our new UA Terry Fleece Anorak! It's a major crowd-pleaser. Our team tested out the Anorak, see for yourself if it stands up to these two gear aficionados: watch now →
Wrap it up -- but hurry!
You shop our gift guide for perfect last-minute additions to your store. Then your team can shop for their team. But they'll have to order by December 6th to ensure delivery by December 24th. So get the word out, faster than Rudolph and his team can circle the Earth. You know -- email, social media, text messages. Brush up on the best social media platforms for promoting your store →
Now your work is almost done, just one more thing you need to do. Drop a hint with a Certain Someone that you, too, would love to be gifted with some new team spirit wear this holiday!