Research shows that when school spirit wear associated with a club, band, or sports team is worn, morale, along with the sense of belonging, is boosted. Personalization only adds to that sense of pride and comradery.
----
In this era of all things digital, consumer expectations are higher than ever with more choices and options available to us. The upsurge in customized and personalized products is not a surprise; it's a natural evolution. More and more of our lives are customized and personalized to our tastes, behaviors, and preferences. We want personalization. In fact, we love it.
Recent research from Deloitte showed that more than 50% of consumers are interested in purchasing personalized products or services, and half are willing to wait longer for them. We form emotional connections to a product or brand that is made just for us. When it comes to our personalized apparel, we wear it often, tell our friends about it, and post pictures on social media for the world to see.
Customization vs. personalization
At SquadLocker, we are all about customization and delivering that feeling of belonging to a particular group or team. We also love adding that second layer of personalization that adds to the joy.
What's the different between customization and personalization?
Customization: All the items in your SquadLocker store are customized with your team, school, or organization's logo or slogan.
Personalization: Items in your store can be additionally personalized by members of your organization with their name and/or number.
Personalization can easily be added to items available in your store. If personalization is available for an item, then a personalization box will show up on the product page when your team selects an item.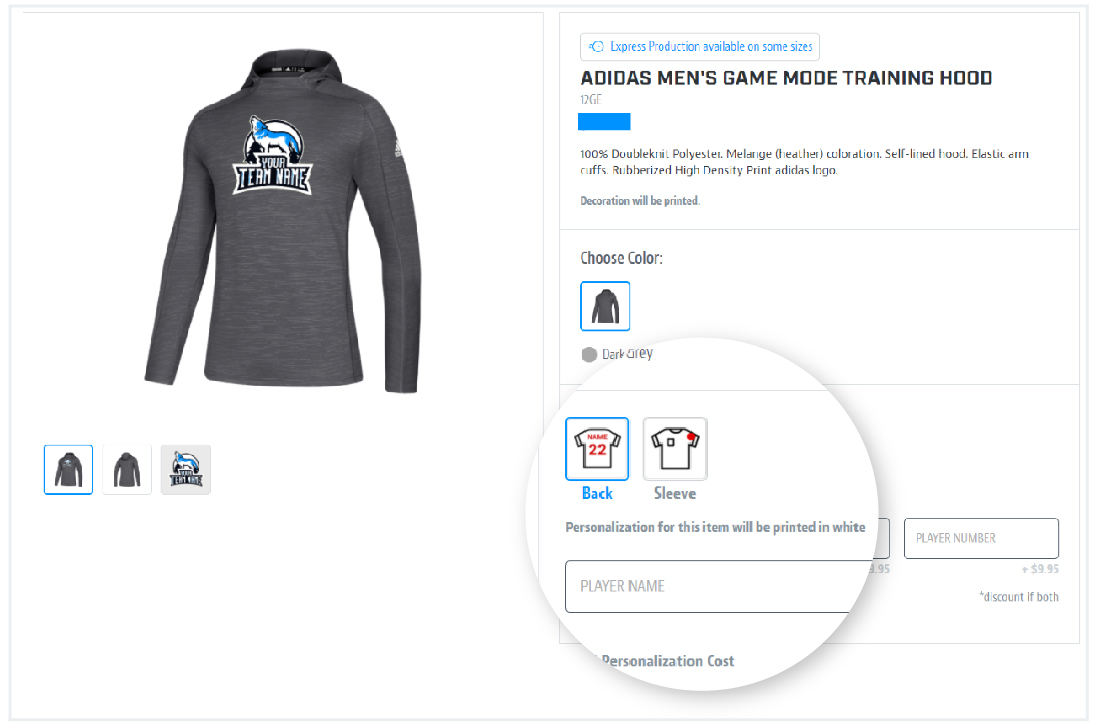 Your team can simply type the name and/or number in the field before adding the item to your cart, and that information will be added to your item. Team uniforms, hoodies, jackets, gear, and bags are all great items to adorn your name or number.
Personalize your Apparel
Be sure to include items in your store that are optimal for personalization. Your community will love it! It's fast, easy, and affordable for them to add their name or number to apparel or accessories. Details vary by product. For more information, including dimensions, location, and allowable character length, click here.