Have you ever wondered if there was an easier way to raise funds for your organization? We certainly have.
At SquadLocker, we understand that as organization leaders, it can sometimes feel like you're wearing many hats, from being a manager of custom apparel, to coaching, mentoring, or simply just focusing on your members. We also understand how challenging it can be to execute fundraising efforts or even generate extra money for your members and your organization.
With all of this in mind, we have created an easy way to raise funds for your organization, through your established SquadLocker store. Your members are already gearing up, so why not gear up and support your squad at the same time? With the simple click of a button, SquadLocker makes fundraising exciting, fast, and easier than ever.
"I love having the ability to choose from different brands for our apparel, and that there is a fundraising option for selling our team's gear, which is an easy way for us to raise travel funds." - Dean F.
How To Get Started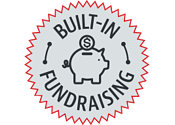 To get started, simply build your free, always-open, SquadLocker team store. You can enable fundraising at any time, during the store building process or through your dashboard after the store is created. To enable fundraising, click EDIT on the store you want to add fundraising to, and select FUNDRAISING. From there, simply turn the fundraising feature ON, select the fundraising percentage (5%, 10%, or 15%) you wish to apply to your SquadLocker store, and click SAVE. Our store builder automatically adjusts the price of each item in your store, according to the percentage of fundraising you would like to receive.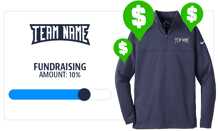 Once your organization's SquadLocker store has raised over $10 in fundraising dollars, you can request a pay-out from your dashboard and get your funds with the click of a button. Upon your request, SquadLocker will begin processing your request immediately and you will receive a mailed check in 7-14 days.
For more information on how to use the fundraising feature, visit our Learning Center.
PRO TIP:

Once fundraising is turned on,

keep track of the tally under the "fundraising" tab.
It's THAT Easy!
At SquadLocker, we not only eliminate the headaches that come with managing your apparel needs, but we also take away the hassles of fundraising too. By utilizing the fundraising feature, your organization can easily earn extra money without having to do any extra work, giving you back your most valuable asset of all - time.
"As a busy "team mom," SquadLocker is an easy way to do fundraising for our team. I love the ease of setting up our store, and the customer service has been FANTASTIC! It's so nice that all orders ship directly to each family...just one less thing to manage. We have had multiple stores the past 2 years, with no problems! A++" - Diane