Want to boost the selling of your gear in your SquadLocker store? Our popular Roster feature – recently updated and renamed "Email List" on the dashboard – allows SquadLocker admins to easily announce a new store to their community. Admins love how they simply upload an email template or type in individual names and email addresses and SquadLocker takes care of the rest!
When admins create a new store, the Email List feature allows subscribers to automatically receive a series of four emails regarding the store announcement, discount code to use as a welcome, store link, and helps to get your community engaged and purchasing your custom apparel and gear. Email lists are separated by store, so if your organization has multiple stores, your email lists can be customized for each store community.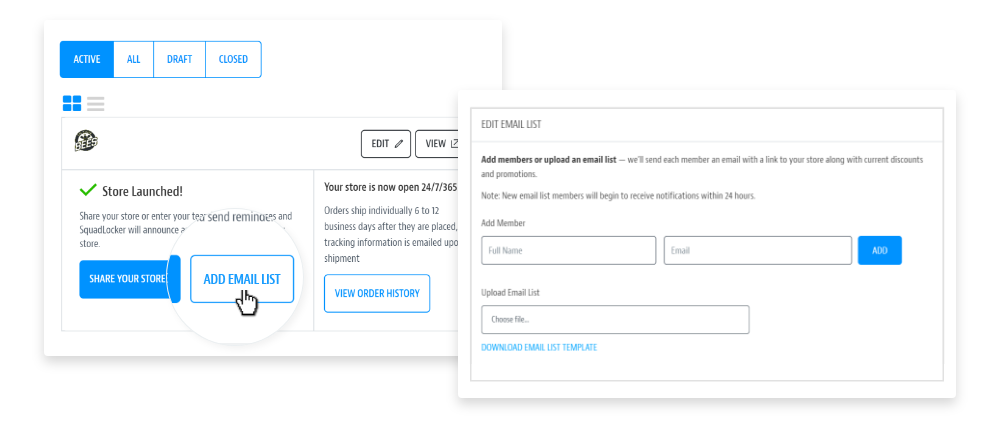 Be sure to use the Email List feature to increase awareness of your online store, sell more gear, raise more fundraising dollars (if you use this feature), reinforce your brand, and build spirit throughout your community.
To add your email list, log in to your dashboard and click add email list. Upload your list and you're done!
Getting started with anything is usually hard, but not with SquadLocker. There's never been a better time to engage with your community and promote contactless shopping through your custom SquadLocker store. We're known for making the lives of sports league organizers and school administrators easier by managing the entire process of designing, purchasing, distributing – and helping you to promote your custom apparel!
We have lots of ideas to engage your community to increase purchasing and get them wearing your brand! Talk with your account rep today about our easy-to-use Email List feature (formerly Roster) and other ideas to promote your SquadLocker store.