Women's History Month is an annual celebration observed in March in many countries around the world. The event is dedicated to recognizing the contributions and achievements of women throughout history and in contemporary society.
This month we celebrate Women's History by sharing stories from some of the incredible women making an impact at SquadLocker. Through their stories and achievements, we honor all of the women who work at the organization to bring custom apparel solutions to teams, schools, and organizations across the country. These women have made significant contributions across a range of fields such as product, engineering, marketing, finance, fulfillment, customer service, and more.
Spotlight: Tiffany Omicioli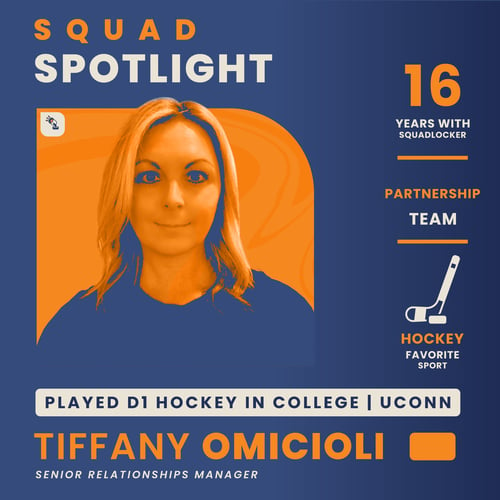 Tiffany Omicioli is a Senior Relationships Manager in the Partnerships team. She has been working at SquadLocker for 16 years, making her one of the most tenured employees.
Tiffany manages the relationships with partners who integrate with the SquadLocker platform. Her role is both operational and tactical to ensure that all partner opportunities are supported. These partnerships empower teams, leagues, and organizations far and wide with the tools to create, manage, and distribute custom apparel. She is vital to the team as SquadLocker partnerships continue to grow and expand.

Always a team player, Tiffany played various competitive sports throughout her childhood and into high school including soccer, softball, volleyball, basketball, and hockey. While skilled across a variety of sports, hockey was her primary focus.
"I started playing hockey at the age of 3 and eventually ended up playing Division I College Hockey at the University of Connecticut. After graduating, I took the job as an assistant coach for UConn for 1 year before starting with Turfer Athletic now SquadLocker."

She continued on her experience with Hockey, "Hockey not only introduced me to people who have become lifelong friends but it also brought me to places around the world that I never would have visited or experienced if it had not been for my involvement in the sport."

Her favorite sport: Hockey 🏒
Awards/Accolades: Played D1 Hockey for UConn 2001-2005 and was team captain. Member of the Hockey East All-Decade Team.
Her biggest piece of advice: Wayne Gretzky: "You miss 100 percent of the shots you don't take."

Her favorite woman in history: Billie Jean King. She was one of the first female athletes to advocate for gender equality and was a trailblazer in pushing female sports to the masses.
Spotlight: Quanita Poston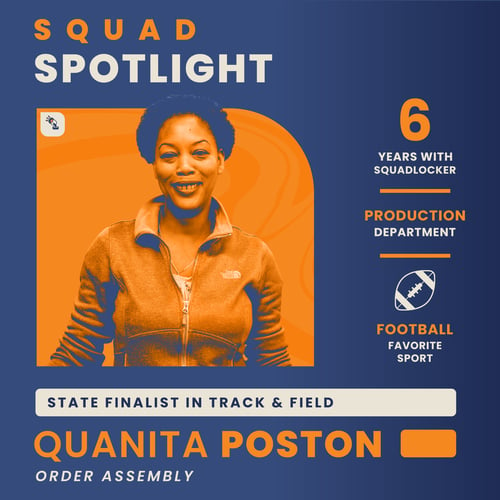 Quanita Poston joined SquadLocker 6 years ago. As a member of the SquadLocker Production team, Quanita plays a crucial role in Order Assembly.

With thousands of orders processed daily, Quanita is responsible for ensuring that every shipment of apparel and merchandise is assembled with precision and efficiency. She is one of the last checkpoints in the order journey, bringing team spirit to players, students, parents, and fans alike with each delivery.


As a team player, Quanita participated in various sports throughout her childhood, and as a Track & Field runner, she was a state finalist.
Her favorite sport: Football 🏈
Her biggest piece of advice: This life is the only one, try to enjoy every moment you have.

Her favorite woman in history: Harriet Tubman "She was one of the strongest women in American history and helped a lot of people."
Spotlight: Parida Pulate
Parida Pulate is a Quality Assurance and Automation Engineer at SquadLocker. Parida joined SquadLocker in September 2022 and works on the Engineering team. Her role helps us ensure the quality of our technology products and services.

Parida is a member of the Uighur community in the U.S., emigrating from Xinjiang, China. Despite not having a background in Information Technology (IT), she has managed to navigate a successful career in IT while overcoming the language barrier. When asked about her experience, Parida said she loves "continuous learning, and being a 'preventive care' measure for developing new products."

Awards/Accolades: Master of Business Administration from Johnson & Wales University
Her favorite sport: Ice Skating ⛸
Her biggest piece of advice: Only people who do nothing can't make mistakes. If you make a mistake, it doesn't mean it is a bad thing, it means you are trying to get the job done.
Her favorite woman in history:"Helen Keller is my favorite woman in history as she symbolizes courage, strength, and hope. Her positive and resilient attitude serves as an inspiration to me."
Spotlight: Elisabeth (Liz) Aloisio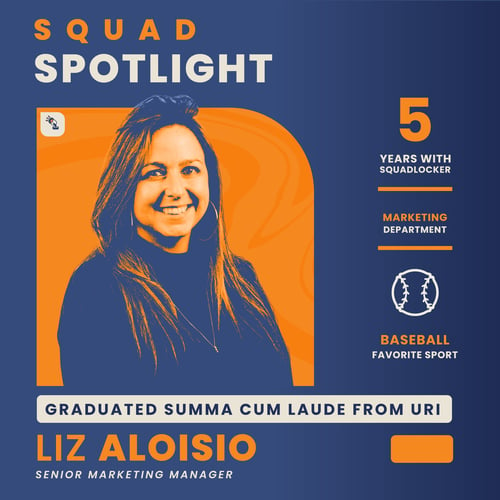 Elisabeth Aloisio (Liz) is a Senior Marketing Manager at SquadLocker and has been with SquadLocker for 5 years. Liz oversees the marketing operations at SquadLocker leveraging a deep understanding of our customers to make data-driven marketing decisions. Her inter-departmental relationship management skills are unparalleled and her experience with digital marketing makes her role critical to the success of the company.
Before coming to SquadLocker, Liz managed client and ad-network relationships at a quantitative digital marketing agency specializing in demand creation, profitable customer acquisition, and growth for its customers.


Awards/Accolades: Graduated Summa Cum Laude from URI in Communication Studies
Her favorite sport: Baseball ⚾️. Liz played a variety of sports as a child and was a dancer for over 15 years competing throughout New England.
Her biggest piece of advice: Be kind and treat people the way you would want to be treated.
Her favorite woman in history: Jane Austen
Spotlight: Nelia M Tillinghast
Nelia M Tillinghast (aka Nellie) is the Director of Systems Integrations at SquadLocker and has been with the company from day 1. Born in the Azores and emigrating to the US in 1987 Nellie went into the workforce after high school graduation.
"I registered and got accepted into the University of Massachusetts, Dartmouth on my own and without any mentorship, but was intimidated by the first-semester bill when it was mailed to me, and therefore instead of attending college, I applied for a job with Duro Industries, Inc. that September 1991. Duro was the largest commercial textiles dyer/finisher in Fall River, and it was owned by the Ricci and Goldberg Families."
Nellie met the SquadLocker founder during her early work career and has come along for the evolution of the company.
"I started at Duro as a simple clerk filing paperwork… and ended up being the lead for Duro's government contract business headed by Stanley Goldberg, and soon after met Gary Goldberg. In 2000 Gary left Duro and started his own adventure, a company by the name of CTM LLC (Custom Tailored Manufacturing), and reached out to me with a job offer to run the Operations of the business. CTM had a manufacturing facility in Mexico and I managed all of the inventory and vendor/customer relationships and transactions for the same. There were a total of 4 of us there – Gary Goldberg (SquadLocker founder), Frank Tillinghast (current SquadLocker CFO), myself, and a receptionist."
15 years after CTM, Gary began the SquadLocker venture bringing Nellie on board at inception. She was inspired by the vision and invested in the mission, Nellie has been an integral part of SquadLocker.
"Gary had a goal to allow coaches and teachers more time to do what they love: coach and mentor young adults instead of having to deal with the administrative work. Mentoring and leading the young generation to their best future as adults resonated with me. Although I've been extremely fortunate in my career to have the opportunity to work hard and progress in my career, not everyone does. I honestly believe that SquadLocker has had a positive impact on the humans tasked with coaching teams and the time they've been given back to mentorship positively influences our next generation."
Awards/Accolades: Born in the Azores and emigrated to Massachusetts in 1987 at the age of 13, Nellie graduated with High Honors and #12 out of a class of 700+ students.
Her favorite sport: Hockey 🏒 (In Person), Golf ⛳️ (on TV), and 🧘‍♀️Yoga, Nellie is a 500-hr certified Yoga instructor.
Her biggest piece of advice:
"Believe you can and you're halfway there", Theodore Roosevelt
"Necessity is the mother of invention," Plato
Her favorite woman in history: Amelia Earhart. "I love flying and to be the first woman to fly solo across an ocean sounds like an incredible feat!"
Spotlight: Dina Ferreira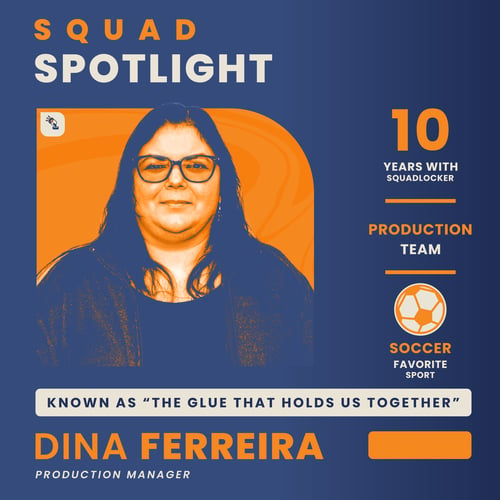 Dina Ferreira is a Production Manager at SquadLocker. Originally from S. Miguel Azores, Dina worked her way up the ranks and now leads almost the entire production floor. At the company for 10 years, she is often referred to as the "Glue that holds the SquadLocker world together." As production manager, Dina brings together warehouse and office staff, and her experience in management makes her an extremely effective leader.

Her favorite sport: Soccer ⚽️
Her biggest piece of advice: Treat others the way you want to be treated and be humble.
Her favorite woman in history: Natalia Correia. She was a Portuguese poet, and activist for women's rights, she also wrote the lyrics of "Hino dos Acores", the anthem of the Azores islands.
Spotlight: Bettina Ivanovich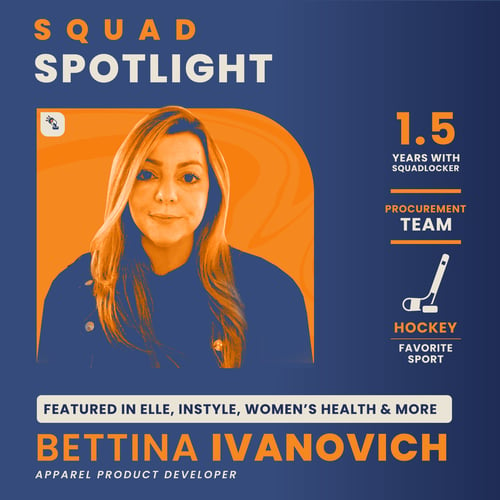 Bettina Ivanovich is the SquadLocker Apparel Product Developer and has been with SquadLocker for 1 ½ years.
Awards/Accolades: A Fashion Institute for Design & Merchandising graduate, and an A.A. in Fashion Design. With over 15 years of experience in the industry, Bettina previously owned her own clothing company and saw great success with her designs being featured in top-level publications such as Elle, InStyle, and Women's Health.
Her favorite sport: Hockey 🏒
Her biggest piece of advice: Put 100% effort into everything you do, and you will be successful.
Her favorite woman in history: Dr. Jane Goodall, for her work on conservation and animal welfare.
Spotlight: Erica Lawrence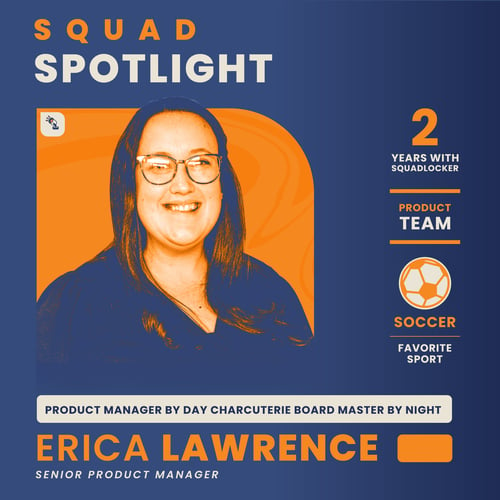 Erica Lawrence is a Senior Product Manager at SquadLocker. She has been at the company since May 2021. Erica is of the few women on the Engineering team at SquadLocker. Engineering is one of the most male-dominated fields.
Awards/Accolades: Valedictorian of her high school, Erica has a Bachelor's degree in Chemical Engineering from Northeastern University.
Her favorite sport: Soccer ⚽️. Erica played soccer into middle school and then began coaching a U8 after that. As a coach for 20 seven-year-olds, she learned understanding and patience (skills she uses on a daily basis at SquadLocker).
Her biggest piece of advice: Never take advice; trust your instincts to forge your own path.
Her favorite woman in history: Ruth Bader Ginsberg, whose fearlessness in the face of discrimination is inspirational.
Spotlight: Stephanie Tobey
Stephanie Tobey has been at SquadLocker for 4 years. Currently a Sales Support Representative, she had an impressive Basketball career prior to joining the squad.
Awards/Accolades: William T. O'Hara Award at Bryant University, Youngest Head Coach in College basketball at the time-2004 Lasell College, Coached 2 teams of US Collegiate players in International Tournaments (Australia & Italy), 2007-08 Basketball Division III Head Coach at Lynchburg College in Virginia where her program was recognized as a Top Ten turnaround team in the country for winning percentage, 2019-20 Head Coach at East Greenwich High School, Rhode Island Sweet Sixteen
Her favorite sport: Basketball 🏀
Her biggest piece of advice: "Be yourself always and the right people will gravitate toward you and if they don't they aren't your people"
Her favorite woman in history: Pat Summit, celebrated American Women's Basketball Coach and Olympic medalist
Spotlight: Katie Guay
Katie Guay celebrated her 1 year anniversary at SquadLocker this January. She is a Key Account Manager and loves being part of the team. She began playing sports at age 6 and continued through college. After college, she began officiating her favorite sport, Hockey.
Her favorite sport: Hockey 🏒
Her biggest piece of advice: "Do something that scares you every day."
Her favorite woman in history: Rosa Parks, because she was willing to stand up (or sit down) for equality and she represented so many women who had come before her.
---
Are you interested in making history at SquadLocker? Click here to see our open positions.