Are YOU ready for winter? For the blinding snow and freezing rain? For wind that comes whipping around corners with no warning enveloping you in its icy grasp?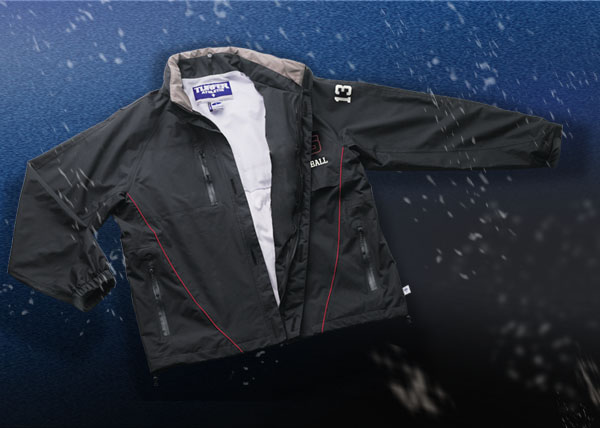 No, you say? Well, it looks like you need some protection from the elements.
Do you worry about your team arriving at an event with inadequate gear to perform in harsh conditions? Do gameday weather predictions keep you up at night? Toss and turn no more; you've got a new security blanket!
Introducing the Tomlin Turf-TEX and Turf-PLEX jackets from Turfer Athletic! Not just a winter jacket, these rain battling, wind busting, heat-defying super-coats are the perfect team suit for official sideline, travel, practice, or warmup gear in ANY weather condition.
We've constructed the Turf-TEX out of 100% waterproof material that breathes almost as easily as you will when you realize your team is ready for anything Mother Nature sends your way. This means you can wear them on those muggy late summer afternoons where intermittent downpours used to leave you struggling to layer a raincoat or rushing to throw an umbrella over your old sideline gear. Hot day? NO sweat! Our breathable material sucks the heat away from your body unlike any other waterproof jacket.
So it's great in heat and rain. What about these wintery conditions you speak of? Let me ask you a question. Maybe you've heard of jacketception? It's a concept we've arrived at after producing such an unstoppable weather combating product. Adding a layer just got simpler! Simply zip in the fleece liner and you're good to go. It's the jacket within a jacket that offers the ultimate balance of warmth and armor. The $25 Katahdin-TEK Fleece jacket brings a layer of insulation and comfort to the Tomlin Turf-TEX and Turf-PLEX. This 3-in-1 zip-in jacket system is the barrier between you and the elements.
Not expecting to be out in heavy rain but still want that devilishly sleek look that the Tomlin has to offer? The Turf-PLEX is the jacket for you! Water resistant and designed out of the same material as its brother, the Turf-PLEX offers all the amenities of the Turf-TEX, save for the waterproof capability, with a budget-friendly approach.
Better yet, our in-house decoration department can thread together the team logo you've been dreaming about. We can transform these blank jackets into personalized, team branded, stylish team gear. Not only are these jackets versatile in all weather conditions, but they also offer ample embellishment locations. Shoulders and chest are open for personalization. The back storm flap is perfect for screen printing and an awesome option for championship logos.
And what would good team suit be without matching pants? Both jackets come with waterproof or water resistant options for matching bottoms to complete this stunning team package.
Let us fight off the elements so you can focus on your opponent! Team gear designed thoughtfully around
teams;
the ultimate all-weather, all-condition team suit manufactured with you in mind. The Tomlin Team Jacket; undefeated against the elements for ten years running.
#WeLoveTeams