Last week, I checked in with SquadLocker CEO Gary Goldberg to talk about our newest undertaking: the SquadLocker GearGuru challenge. Let's take a deeper look into Gary's newest idea, and see what the new program is all about.
Q: Where did you come up with the idea for the SquadLocker GearGuru challenge?
A: As a team dealer, I think that our responsibilities are endless. We need to ensure that we deliver decorated products on time, that team logos are correctly placed on garments, and that we meet and exceed the expectations of our customers. By implementing Gear Guru into our repertoire, we can now provide our customers with first-hand reviews of the items that they want to buy for their team or staff.
Q: I understand why it's important to provide customers with product reviews, but what advantages does a program like GearGuru have over checking the internet for product information?
A: Great question. We are dedicated to learning about how teams and individuals perform on the field every day, but coaches or managers may not have the time to do that. By allowing athletes and people with two left feet to test different products in different sc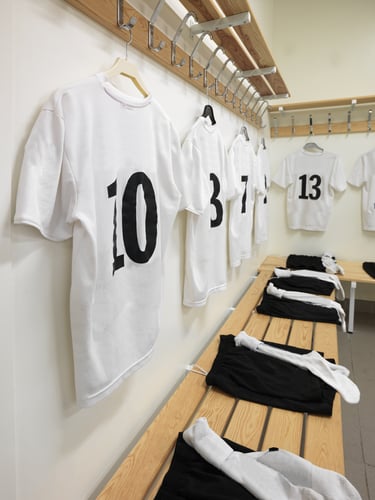 enarios. Like a five-week long football camp or an evening walk with the dog. We will have a more thorough and organic understanding about the products that we sell, which will better equip us to recommend them to customers.
Q: You mentioned that people with "two left feet" can participate in the SquadLocker GearGuru challenge why is their review as important as a professional athletes?
A: The way I see it, the customer's that we interact with aren't all going to make it into the NFL. We work with youth leagues, high schools, and college-level athletes. And because of that, we get a lot of different questions about the wear and tear of differently branded items, how to properly care for certain gear, whether to choose one item over another, and et cetera. We can re-position certain details about product from our vendors' websites, but relying solely on that data prevents us from learning more about the apparel that we buy and sell.
Q: It sounds like anyone would be eligible to participate in this challenge, is that correct?
A: Not exactly. We piloted the Gear Guru challenge with a handful of local participants, and determined that the most valuable reviews came from two groups of people - dedicated athletes and open-minded consumers who are brutally honest when it comes to providing an opinion.
Q:Is there anything else you'd like to share about this gear challenge to our friends and fans?
The most important thing about this challenge is our customers. We want to make sure that customers love the gear that we recommend, and learn from them what works, what doesn't and what's just alright. And we don't just want to hear your reviews, we want to see pictures of your team members in action! At the end of this challenge, I'd like to see pictures of people from all 50 states involved in product testing, and be able to share their stories and photographs on our social media pages to help teach others about sports gear.
Think you have what it takes to become the next SquadLocker GearGuru? Then sign up today and maybe you'll be the next lucky person to test some SquadLocker swag!