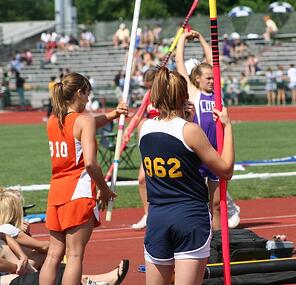 The Spring Track & Field season starts up at the end of the month for high schools and middle schools across the country. That means if you haven't ordered your track team uniforms yet it's time to make this a priority. We get it – coaching is not a full-time gig. You've got a whole lot of other responsibilities on your plate, so it's easy to let this slide to the last minute. We get last-minute customers all the time frantically trying to get their uniforms 2 weeks before the season starts. Save yourself the stress and start your research today.
When it comes to track uniforms, we see that budget is the #1 concern for all coaches. Schools with larger budgets can take their pick from some of the more popular brands, but for schools with more limited resources (middle schools especially), a $60-per-kid uniform set is not going to cut it.
I try to avoid using the word "cheap" when describing the more affordable options out there, because "cheap" often comes along with connotation of being inexpensive at the expense of quality. But there are a couple of stellar value options for school track uniforms that are great on quality and price. These brands may not have the same reputation as Adidas or Nike, but you'll save almost half the price by not paying extra for that Nike swoosh.
"Best Buys" for School Track Uniforms
Holloway
Quality-wise, Holloway is your best bet if you're looking for a more inexpensive alternative to one of the name brands. Their polyester fabrics are top-notch, lightweight, and super breathable. They will even offer to send fabric swatches for you to feel for yourself. If you are working with a team dealer, ask them to send you a sample of their most popular item. Holloway offers a handful of stock silhouettes in a range of fits (loose vs. slim-fit) as well as customizable warmup jackets, pants, and other popular team add-ons. They even have an online tool that lets you create your own mockup. A typical Holloway singlet + short package runs at just under $50 per player, but if you know your team might want to order jackets as well make sure to ask your dealer if they have any special bundling promotions.
Augusta Sportswear
Augusta Sportswear is another popular "value" track uniform brand. With 3 different stock styles for men (and 5 for ladies), they have plenty of options to choose from. A singlet + short package from Augusta could cost anywhere from $30-$60 depending on the style and amount of customization. Like Holloway, there is an online customization tool you can use to check out colors, styles, fits, and see what your school logo will look like on the shirt. Here at SquadLocker we sell a lot of packages that include Augusta's Medalist jacket and pant to create a comprehensive player pack.
Augusta Medalist Jacket and Pant Product Video
Badger
If you have a really limited budget, Badger is the brand for you. Badger Sportswear offers a handful of singlet and short options for under $45 per uniform, but where they really shine is in their performance tees. If you don't think your school has money for "nice" uniforms, a performance tee + short combo from Badger is a great solution (and will only cost around $30 per player). Check out their Spring Catalog to look at the latest styles.
The Bottom Line: You Have Options
Even if you don't have a prep-school budget, that doesn't mean you have to be stuck with some second-rate uniforms. You've got options! Work with your team dealer and explain your budget constraints. By being open and transparent they can work to give you as many options as possible to fit your needs, and even send you products samples for you to look over in person.
Check out some of the popular Track & Field packages we sell here at SquadLocker, or talk to a sales rep to build an affordable custom uniform package of your own!