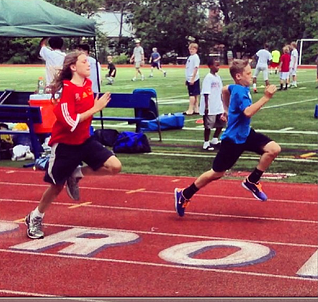 March is here, and here in Rhode Island that means the last of the snow is starting to thaw and we're finally starting to get a taste of warmer weather. It also means Track & Field season is fast approaching. By now many schools have already hosted their Spring Sports meeting for parents in students, and maybe your teams have even started some pre-season conditioning – but are you ready for your first meet? What's your uniform situation? Have you even taken stock of what's left from last year?
Between the wear-and-tear on last year's uniforms, lost uniforms that mysteriously went "missing" along with graduating seniors, and a growing team roster, it might be time for new uniforms. Whether you have a final team roster yet or not, it's important to start tackling this task now while you have some extra time, because it always takes longer than you expect. Sure it might take a week or two for your dealer to customize your jerseys, but don't forget to add in the time it takes to get all your players' names and sizes organized, actually get the order approved, and of course factor in more time for shipping…
Choosing new Track & Field uniforms is first and foremost a question of budget – do you go for brand-name or value? Today we'll focus on the top 3 most popular Track & Field brands, and next week we'll explore some of their lower-cost competitors.
Adidas
Adidas is one of the Track giants. Having originally made a name for themselves through their performance footwear, they are now exceedingly popular for uniforms as well. Adidas offers some of the cooler customization options – like full sublimation and full custom warmup suit design. But with a hefty pricetag (a single sublimated uniform set costs well over $100) this is way out of the league of most high schools. Adidas' stock options are much more practical (coming in around $60 MSRP) and competitively priced with other brands. Remember, most team dealers allow you to bundle orders and get a discount – so if your team is looking for track jackets or travel suits as well you could save big!
Under Armour
Although a dominant player in other sports (like lacrosse), Under Armour doesn't have the same reputation in Track & Field. Their one stock style to choose from, a singlet and shorts ($60 MSRP), is great quality (after all, it is Under Armour), but that's all they really have.
Champion
While their name doesn't carry the same cult-inspiring appeal of Adidas or Under Armour, they are a strong contender in the Track & Field space. As a growing brand, they are actually offering 2 sublimated silhouette options for the first time this Spring. Champion offers a variety of stock styles for both men and women, with slightly different fits, color blocking, etc. Price and quality-wise, these are all comparable to Under Armour and Adidas (a singlet + shorts combo starts at just under $60 MSRP).
How to Choose?
Since there isn't any real performance gaps between any of Adidas, Under Armour, or Champion's stock uniforms, and they all hover around the same price point, you can be confident on choosing a uniform from these three on style alone. Even if you are set on Adidas – check out the other two's styles just out of curiosity, you might see a silhouette you like better. Better yet, request some samples from your team dealer to compare them in-person (who said working with a team dealer didn't have its perks?)
Check out some of the popular Track & Field packages we sell here at SquadLocker, or talk to a sales rep to request some product samples.