Local Athletic Apparel Firm Partners with University of Oklahoma to Help Tornado Victims
FOR IMMEDIATE RELEASE
May 27, 2013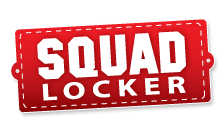 For Additional Information
Contact Todd Grant, President
tgrant@squadlocker.com
SquadLocker™, Rhode Island's premier provider of athletic apparel, uniforms and team gear has partnered with the University of Oklahoma's athletic department to provide disaster relief assistance to the victims of last week's devastating tornadoes.
"Part of being a Rhode Islander means that we often find ourselves at the epicenter of some of the most powerful storms nature can unleash," stated Gary Goldberg, CEO of SquadLocker. "But it also means that we find ourselves at the epicenter of human kindness and compassion during those disasters, such as the recent hurricane Sandy."
"It was with that in mind that we shipped over 500 articles of new clothing to our friends in the Athletic Dept at the University of Oklahoma who are coordinating a relief effort to help those impacted by the tornadoes to recently devastated parts of their state. We are pleased to have the opportunity to work with the university to support their efforts as they work with the Red Cross to provide relief to their friends and neighbors."
Brad Camp is the university's Director of Athletics Equipment and is heading up the university's relief program stated: "I really want to thank SquadLocker, specifically Tiffany Omicioli, for helping to spearhead this important giving initiative during our time of need. With SquadLocker's donation, in addition to others we have received from across the country, we now have enough clothing donated that we can now shift our focus to the next areas of need which are shoes, toiletries and money.
"I also appreciate SquadLocker being willing to assist us to reach out to those in the New England region who would like to assist those impacted by this devastating storm."
Mr. Camp is asking anyone who wants to assist the Oklahoma tornado victims to ship any goods to:
University of Oklahoma Equipment Room
180 W Brooks
Norman, OK 73019
Any monetary donations can be made online at www.redcross.org/ok/oklahoma-city. By donating to the Red Cross organization, the money will go directly to the tornado relief efforts.
##
About SquadLocker™
SquadLocker is a full-service team dealer providing team gear, apparel and uniforms and a superior customer experience. Located in Warwick, RI in a 34,000 sq. ft. facility SquadLocker is a market leading team dealer providing a diverse selection of athletic apparel including brands such as Adidas, Champion, Turfer and many more. All of your team gear….for every season….from one source. Learn more at www.squadlocker.com.