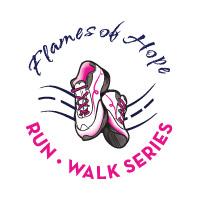 SquadLocker Becomes the Official Customized T-Shirt Sponsor for the Gloria Gemma Foundation Flames of Hope Run/Walk Series
FOR IMMEDIATE RELEASE
October 2013
For Additional Information
Contact Todd Grant, President
tgrant@squadlocker.com
SquadLocker™, Rhode Island's premier provider of athletic apparel and uniforms announces it will be providing an online environment to allow race participants of this year's Flames of Hope Run/Walk Series to order customized race shirts. SquadLocker will be providing all the support and infrastructure to fulfill apparel orders that allow participants to customize their event day shirt by adding either the name of the person they are running for or their team name at no extra cost.
Todd Grant, Sr. Vice President of SquadLocker stated: "Our tagline at SquadLocker™ is: 'We Love Teams'. And in our opinion there is no team more important than the Gloria Gemma team and those who come together to support the patients, and families, who are fighting the battle against this disease."
"Because of this we are excited to announce that SquadLocker will be offering each participant of the Flames of Hope Run/Walk Series the ability to customize their T-Shirts with either their team name or the name of the person they are running to support, for no additional cost. It is our hope that we can help turn this year's T-shirts into a valued memento that acknowledges the significance of this event and the fight against breast cancer for all those who participate."
Lynn Simon, Director of Strategic Partnerships & Gloria Gemma 5K Coordinator is excited about the collaboration. "The idea that we are a local organization working with community partners is a very important to us. Our community thrives when we all come together to support the members that live within it."
"I am looking forward to building a relationship with SquadLocker that will help us better serve all those who are impacted by this preventable disease. We sincerely appreciate their willingness to help us to make the race apparel for the Flames of Hope Run/Walk race series even more of a keepsake momento for our participants and their supporters."
##
About SquadLocker™
SquadLocker is a full-service team dealer providing team gear, apparel and uniforms and a superior customer experience. Located in Warwick, RI in a 34,000 sq. ft. facility Squadlocker is a market leading team dealer providing a diverse selection of athletic apparel including brands such as Under Armour, Adidas, Champion, Turfer and many more. All of your team gear….for every season….from one source. Learn more at www.squadlocker.com.
About Gloria Gemma Foundation
The Gloria Gemma Breast Cancer Resource Foundation was established in 2004, in loving memory of Gloria Gemma, two years after this wife and mother-of-nine lost her courageous fight against breast cancer. Their mission is to raise breast cancer awareness, increase breast health education, enhance the quality of life for breast cancer patients, as well as their families and friends, and generate funding for local breast health programs. Learn more at www.gloriagemma.org