FOR IMMEDIATE RELEASE
May 15, 2013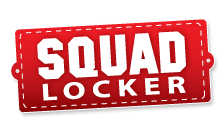 For Additional Information
Contact Todd Grant, President
tgrant@squadlocker.com
SquadLocker™, Rhode Island's premier provider of athletic apparel, uniforms and team gear is pleased to announce that it has just signed a deal with one of the most respected and sought after brands in the athletic wear industry: Adidas.
"Becoming authorized in Rhode Island as a Team Dealer for Adidas is a game-changer for SquadLocker. This partnership accelerates our commitment to bring the world's highest quality team apparel and gear to Rhode Island at the best possible prices," stated Todd Grant, President for SquadLocker.
Grant continued: "The addition of Adidas to SquadLocker's extensive offering of sports apparel brands not only makes it possible for scholastic and club teams all across southern New England to deal with one company to gain access to the highest quality apparel in the industry but it also clearly demonstrates that small businesses in Rhode Island can and do compete at the highest levels in their industries."
Mark Sylvia, Regional Sales Representative of Adidas, stated: "As one can imagine, becoming an Authorized Dealer with what could arguably be considered the most exciting and sought after sports apparel manufacturer in the industry is not an easy process. Adidas is committed to ensuring that every shopping and buying experience our customers have is one that is easy, gracious and satisfying. Because of that we are very selective about who we allow to become Authorized Team Dealers and Representatives of our product lines.
"But seeing the level of professionalism and competency of their management team and staff, their in-house decorating capabilities and how easy they have made the shopping and purchasing experience made the decision to select SquadLocker as a Team Dealer reseller in RI an easy one. The investment they have made in their new building, decorating equipment, online tools, customer service support and showroom are clear signs of their commitment to this market. All of us at Adidas are thrilled to have SquadLocker as a partner as we extend our commitment to better serve the Rhode Island and southern New England markets."
About SquadLocker™
SquadLocker is a full-service team dealer providing team gear, apparel and uniforms and a superior customer experience. Located in Warwick, RI in a 34,000 sq. ft. facility SquadLocker is a market leading team dealer providing a diverse selection of athletic apparel including brands such as Adidas, Champion, Turfer and many more. All of your team gear….for every season….from one source. Learn more at www.squadlocker.com .
About Adidas
Adidas is a German multinational corporation that designs and manufactures sports clothing and accessories. It is the holding company for the Adidas Group, which consists of the Reebok sportswear company, TaylorMade-Adidas golf company (including Ashworth), and Rockport. Besides sports footwear, Adidas also produces other products such as bags, shirts, watches, eyewear, and other sports- and clothing-related goods. Adidas is the second biggest sportswear manufacturer in the world.