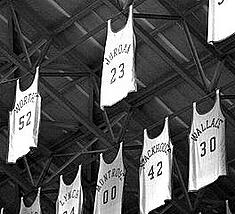 It doesn't take long for most professional athletes to become a distant memory in the minds of even the most diehard fans. However, those who are blessed with the health and ability necessary for long, hall-of-fame-level careers have a way of overcoming time's onslaught and marking their places in history. Teams symbolize these athletes' efforts by retiring their jerseys, raising them to the rafters or affixing them to stadium walls. Yet, on-field success is not always the motivation for retiring a player's number. Athletes and coaches can inspire in more ways than technical prowess.
Rutgers University's football program retired Eric Legrand's No. 52 last September - the first number to be retired in their program's history, which spans 144 years - in recognition of his strength in the face of adversity. In 2010, LeGrand was paralyzed during a game against Army, and he has since become a prominent spokesman for fighting paralysis. His determination to walk again has made him an inspiring figure to others who suffer from paralysis. His foundation, "Team LeGrand," strives to discover a cure for paralysis by funding research on spinal cord injuries and treatments.
The retirement ceremony took place at halftime of Rutgers' game against Eastern Michigan, his No. 52 being revealed on High Point Solutions Stadium's upper level box. Legrand gave a short speech making sure to acknowledge all of the hard work his fellow paralysis victims put forth every day in therapy without recognition:
"All the people I get to see everyday, that are going through the same situation as me, in a wheelchair, paralyzed . . . I'm the spokesperson for them. I go to therapy every day. I work my butt off to get on my feet . . . But those people don't get the notoriety that I do, they're grinding just as hard as me and I'm here for them."
The crowd stood and applauded LeGrand's courage, and video tributes from former players and coaches encouraged LeGrand to continue fighting to achieve his goal of walking again.
LeGrand's retirement ceremony has once again brought the tradition of retiring jerseys in sports to the fore. What does a retiring jersey truly mean? While on-field accomplishments and the length of tenure with a team often dictate whose jerseys becomes immortalized, LeGrand isn't the only example of somebody who has had their number retired for alternative reasons. Major League Baseball universally retired Jackie Robinson's No. 42 in 1997, ensuring that no player who came into the league after that date would wear it again. Robinson was the first African-American man to play in the MLB, breaking the color barrier and heroically triumphing over racism and injustice. New York Yankees' great Mariano Rivera, who retired after wrapping up his final season in 2013, finished his career as the last player to ever sport the number.
Consequently, there can be more to retiring a player's number than just on-field achievement. There is a tacit understanding that no future player could ever live up to the number of a legend, whether it be on the field or off. Though LeGrand's efforts on the field may have been surpassed by the next player to wear No. 52, his fortitude would never have been.

Image Credit: Wikimedia Commons