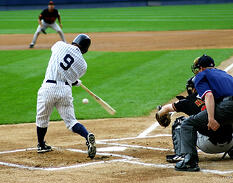 Choosing the "best" anything when it comes to sports is obviously a divisive issue. Determining who has the best team uniforms has sparked many a feud amongst sports fans over the years. The mere attempt to rank jerseys might seem rather hopeless, especially considering the changes in American fashion over the decades (including the general opinion on short-shorts). However we liked the slideshow put together by the editors over at Esquire's Style Blog on the 17 Best Sports Uniforms of All Time. We noticed some patterns to how certain teams have made their uniforms iconic (like the Yankees' classic home pinstripes). Here are a few tips for building the best team uniforms that will stand the test of time.
1. Keep it simple
Although there are a couple of exceptions to this rule on the list—the Houston Astros' "Rainbow" jerseys come to mind—the majority of Esquire's 17 choices sport clean, classic designs. This doesn't mean they're boring necessarily, just that their designers have successfully avoided cluttering the jersey and obscuring the team's name or logo (case and point: the San Antonio Spurs' camo catastrophe). The U.S. National Soccer Team's uniforms in 2010 and the Notre Dame Fighting Irish's football jerseys are excellent examples of the saying, "less is more."
2. Stick to one or two colors
This is straightforward, but many teams fail to follow this rule. The University of Oregon Ducks are a great example. The Ducks are a sort of testing ground for their sponsor Nike, which was co-founded by Oregon alum Phil Knight. As a result, Oregon's football team is famous for sporting a new combination of uniform colors for every game, with some mixture of green, yellow, grey, white, and black typically finding its way onto their jersey tops and pants. Yet, despite all of the crazy uniform combinations that the Ducks have worn over the years, esquire.com chose their all-white uniforms as the best. The list also highlights the University of Michigan Wolverines' maize-and-blue uniforms as an example of a program that uses multiple colors successfully.
3. Have a defining feature
This is perhaps the most difficult aspect of building a team uniform. Without upsetting its simplicity, the designer must achieve some sort of originality when building a jersey. The New York Yankees' pinstripe uniforms are mentioned on this list because of this element. The aforementioned Astros jerseys also exemplify this.
4. Too much change is a bad thing
Much of the Esquire list focuses on a "classic" feel to uniforms that wins over fans for decades. Well, the only way to accomplish this is by sticking to your uniforms for a long period of time. Even if they initially receive criticism, they will eventually make these type of lists because they're "classic."
If you're looking to design a new team uniform, your team dealer should share your vision. Whether you have a full-fledge mockup and are ready to order, or want to talk with their graphics team to help generate some ideas, they are there to help. For advice on how to choose a team dealer, check out our free whitepaper below: