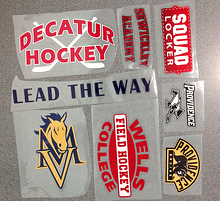 Athletic apparel is constantly changing and progressing. Fabric, fit, design, color, and trend - Team Gear continues to evolve to meet the needs of the athletes. The application and decoration methods must adapt as well. Heat applied graphics, or full-color digital transfers, are the first choice to decorate team apparel and uniforms. They are the way of the future for athletic apparel decoration.
Screen printing is messy and time consuming. Digital heat applied graphics are not. Let's compare: With one you deal with wet ink, use stencils and mesh screens, squeegees and dryers. The other involves a high resolution digital inkjet printer and cutter, solvent-based inks and an optical eye to contour cut, and lastly capture details such as shading and gradients. The former sounds fit for an art classroom, and the latter for the modern day and age of athletic apparel decoration!
Screen Printing on 100% polyester fabrics will lead to adhesion and cure issues due to the moisture wicking and anti-microbial treatments given to these fabrics. Athletic apparel is usually extremely lightweight and tough to dry through a conveyor dryer needed for traditional screen printing. Embroidery isn't really an option as it can pucker the surrounding fabric, add to the garment weight, and itch the wearer.
Although polyester is sensitive to heat, this is not an issue when applying heat applied graphics due to the short expose time to heat. They can be applied using temperatures up to 300+ degrees without issue. No wonder that's the method preferred by the NFL to custom-print draft pick jerseys within 90 seconds of their names being called.
How do Heat-Applied Graphics Work?
Shown here: The optical eye guiding the knife to cut out the team logo

One way digital transfers are created is by a unique standalone machine that prints and cuts your team's logo. In the video to the left, the Tiger Basketball logo has been digitally printed on the white media and here you see the knife working its magic - cutting out the design from the white media using its optical eye. Once complete, the excess media is removed by hand through a process called weeding.
Removing more, we get the completed design. The final step before application is to apply a clear mask over the design, allowing the printed transfer to be pulled off of this white media carrier. With the garment and digital transfer at the heat press, we are ready to apply. 7 seconds is all we need to create a durable long lasting and beautiful performance garment. The video to the right shows the Tiger Basketball logo being applied to one of our Under Armour basketball warm up suits.
It takes only seconds to heat press the transfer onto the jacket.

One of the many advantages with digital transfers: Multiple logos are able to be ganged together and printed at once. No color issues, no screen setups, no mess. Just quick, easy, straight forward one-off custom decoration. That means that last minute add-on orders are no trouble. Going back and doing an additional piece or two isn't a worry either - it is both fast and easy to do.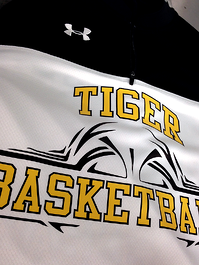 The finished product - can't wait to see these in action on the hardwood!
Mass personalization. Sounds time consuming, right? Not only can you gang up multiple logos and print together, but you can do the same to personalize a garment with names and numbers. Adding players' names and numbers to the back of jerseys is a snap. Want to make something reversible? Not a problem. Under Armour and other brands offer reversible mesh jerseys and pinnies that work great with heat applied graphics.
A couple of common questions we get about heat applied graphics:
Will it peel?
Is it like an iron on?
No, it won't peel after use, it is very durable through multiple washes, and it is completely different than a generic iron on. There are specific types of media that won't crack, peel or fade. Digital decoration via heat applied graphics is the best fit for all performance wear and team apparel due to its versatility, durability, and precision. although it's a relatively new method, it's certainly gaining traction and will soon become the industry standard.
---
If you're looking for custom team uniforms, SquadLocker's got uniform packages from a variety of brands to meet any budget. Request a free mock-up and quote and our design team will be more than happy to work with you to create a uniform that'll make your team look ready to win.
#WeLoveTeams