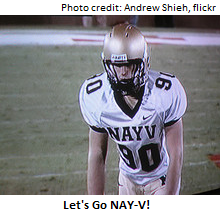 Team uniforms are every high school and college athletic programs front page; they are your first impression. Uniforms guide spectators' perceptions of schools and their teams, as well as their players and coaches. No wonder US Naval Academy coach Paul Johnson was upset after one of his players' misspelled jerseys became a Collegehumor "pic of the week." Fans snapped pictures of backup kicker Matthew Harmonas he scored the first goal of his collegiate career while brandishing a "NAYV" jersey. Regarding all the publicity, coach Johnson said, "Harmon, that's the last time I call a timeout to put your ass in the game."
Uniform mistakes are more common than many buyers realize. Heck, even the pros are stuck wearing uniforms with typos.
When names on uniforms are misspelled and jersey numbers are duplicated or missing, the teams sporting these sloppy threads look disheveled, and the schools that they represent look cheap. Uniform mistakes can also have an adverse effect on performance because the errors suggest to players that their schools don't care about them. How can student-athletes give everything they've got for their schools when their schools aren't doing the same in return?
Avoiding uniform mistakes should be a priority in any high school or college athletic department. Here are three strategies that can be used to prevent these errors.
1. Ask about the team dealer's quality program.
If an athletic department is in business with a team dealer, it should have plenty of input about its teams' apparel, including the design and quality of the team uniforms. The team dealer should have a quality program that is posted on its website or conveyed in a written document describing the steps they take to guarantee quality. Athletic directors should also inquire about directly contacting their dealer's CEO or president when problems arise.
2. Choose a dealer with a quality control process.
A team dealer can guarantee certain levels of quality, but what is specifically done to make sure that its apparel is high-quality? Making the dealer explain this process allows athletic directors to make suggestions that may only be relevant to their particular programs. During this conversation, an athletic director should ask how many times the dealer's products get checked before and after decoration and if there is a non-operator quality assurance individual that checks every garment.
3. Choose a dealer that takes back returns no matter what.
If this is not the case, athletic directors should be looking for new team dealers. When a team dealer makes a mistake, its customers should not pay the price.
The best team dealers don't make uniform mistakes often, but if they do, they fix them quickly. To learn more about choosing a dealer that can accommodate your school team apparel needs, click the image below to download a free guide, "How to Choose a Team Dealer."