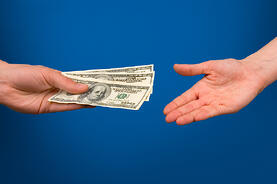 The process of choosing a team dealer can be taxing for athletic directors. They have to weigh the concerns of administrators, coaches, players, and even parents, while also being mindful of budgetary constraints. Moreover, athletic directors need to be sure that they have chosen a reliable, high-quality team dealer that can deliver what they promise.
Here are five questions you should always ask any dealer you are considering before placing an order.
5 Essential Questions to Ask Your Team Dealer
1. What are other people saying?
The world of customer and client reviews can be difficult to navigate and interpret. People generally don't choose to post a comment about a company unless they have an extremely positive or negative experience, creating a virtual game of tug of war in which the reader is pulled from both ends of the reaction spectrum and is left with an ambiguous perception of the company. Even if all of the comments have the same tone, a small sample size of opinions can be misleading. However, this doesn't mean that testimonials and reviews should be ignored altogether. Combing through review threads can lead to trend identification, or the detection of specific information about a company that appears in a number of reviews regardless of the tone of the comments. For example, athletic directors should be looking for comments that address a team dealer's ability to meet deadlines and complete orders accurately. If there are consistent opinions about these two areas, you can be confident you're making a good decision.
2. What sort of volume do they work in? (Volume = potential pricing discounts)
One of the main benefits of using a team dealer is receiving discounts on future purchases. Team dealers that don't offer discounts for certain purchase commitment levels should be avoided. The best team dealers have large on-hand inventories and can turn large orders around fast and pass on their own volume discounts to schools.
3. How big is the company? What's the scope of customer services?
The term "team dealer" is frequently thrown around these days and thus has a rather loose definition. Some "team dealers" are nothing more than corner-store sportswear retailers, while others are a full-service company with everything under one roof. This includes inventory, decorating services, customer service staff, and an operations team. These large-scale team dealers are often able to offer a superior service experience since they can track your order through every step of the process in-house.
4. How do they ensure accuracy?
Though their budgets ultimately guide their decisions, athletic directors need to ensure that they are receiving high-quality apparel for their teams. Consequently, they should always ask team dealers if they have a quality "checker" on staff to ensure that names, numbers, and sizes are correct. The design of jerseys and other gear should also be checked. No one wants a misspelled jersey when it's time for the big game. If there is no established checking procedure in place, avoid at all costs.
5. When things go wrong, how quickly can they be fixed?
All team dealers make mistakes, but the best ones are able to correct them before there is a real issue. A no-questions-asked return policy should be a part of any team dealer's package. Expedited shipping? That should be in there too.
By asking these questions and doing your research, you should be confident you are picking a quality team dealer and not wasting school funds on a mistake. For more information on what to look for in a team dealer, download our free guide below.