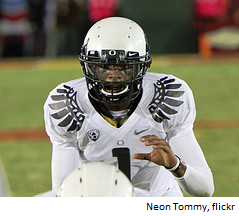 In sports—and life, generally—expectations dictate emotions. Fans who expect championships every year from their favorite teams are often disappointed. Players who receive more playing time than they anticipated feel lucky. Coaches whose teams meet their goals feel satisfied. This inextricable link between expectation and emotion is even more pronounced at the scholastic level of athletics. Since young male and female athletes develop at different rates, it is often difficult for them to evaluate their own mental and physical capabilities. As a result, their expectations for themselves and their teams are often wildly misguided.
It's important to talk about expectations when discussing high school sports apparel because athletic directors must constantly deal with the unrealistic demands of teenage athletes, their coaches, and their parents. Even though many people involved with high school athletics are able to keep things in perspective, there are always a number of individuals, both young and old, who clamor for uniforms and facilities that are unfeasibly pricey. They see the innovative gear worn in big-time college programs and wonder why they—or their athletes—can't be sporting the same apparel. They want the best - and that usually means insisting on top-tier brands. Though their expectations may be high, athletic directors can often give their athletes and supporters what they want—if they're smart. By choosing a team dealer that has an all-school program, and AD can take advantage of discounts on bulk orders to get top-tier brand name uniforms for less. There are two strategies when it comes to trying to get brands such as Under Armour or Nike for cheap:
1. Go big or go home

If you want Under Armour, get Under Armour. For everyone. If your school or league is big enough, choosing to sport one brand exclusively could actually save you money. Large orders mean free promotional gear from your brand down the line after bulk orders have been placed. Plus, dealers who work in large volumes should be getting rebates on their apparel orders, and they can pass these savings on to you.
2. Mix-and-match

Even though leading brands such as Adidas and Under Armour make popular apparel for many different sports, athletes in other sports may not value these brands as highly as others. Consequently, you may not be able to satisfy all of their athletes' apparel requests if you decide to sport one brand exclusively. A better choice for athletic directors in this position would be to purchase a leading brand's gear for a sport in which it is popular—Adidas basketball apparel, for example—and a lesser-known brand for a sport in which leading brands don't dominate the apparel landscape. Alternatively, you could mix-and-match brands within sports, choosing one brand for the most visible part of the uniform - the jersey, and alternative brands for the lesser parts - shorts, socks, etc.
Team dealers usually have merchandising professionals on staff to help athletic directors make their apparel decisions within their specific budgetary constraints. For more ideas on how to save money on your orders, check out the free guide below.