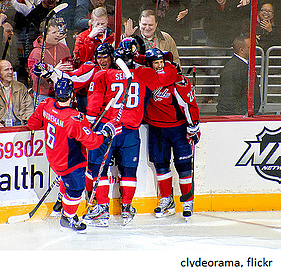 There is no question that the best teams in sports are frequently the most talented ones; the right combination of skill and depth almost always leads to success. However, sports have always demonstrated that a team's chemistry—its solidarity—can also lead to victories. The most recent example of this phenomenon is the 2013 Boston Red Sox team, an incredibly close-knit group whose chemistry manifests itself on each of its players' faces (their scraggly, team-unifying beards have grown uncomfortably long) and has guided them deep into the postseason.
In all sports, it is undeniable that teams with chemistry are more apt to overcome challenges throughout the course of the season, but this is particularly true in hockey, a sport that demands commitment and sacrifice from its participants in exchange for team success. Players often leave the ice bloodied, bruised, and broken simply because they are defending a teammate's honor. Hockey players' level of dedication to their teams cannot be topped.
Some might argue that hockey players' commitment to the "team" concept is borne out of the game's devotion to tradition, and they're not wrong; an emphasis on the past is certainly a factor in the selflessness of hockey players. However, the best hockey teams—and all successful teams, for that matter—usually cultivate their chemistry when they're not playing.
In addition to team-building exercises and activities that allow players to learn more about their teammates, coaches often focus on the minutiae that can have a psychological effect on their players. This includes their teams' attire. Team uniforms are supposed to demonstrate solidarity. Obviously uniforms are required in for teams to play. But when players decide to wear their jerseys or other matching apparel away from the ice, they are truly showing their dedication to the team.
Team travel suits are a great example of a measure that coaches can implement to improve their teams' chemistry. When hockey teams go on the road, they're often heading into hostile territory. Wearing a hockey warm up suit on the bus is a great way for players to show their teammates that they have each other's backs before the game even starts. They can also be worn in class and before home games and practices; sporting the suits always shows team solidarity.
Hockey coaches that take the time to order team travel suits can significantly improve their teams' chemistry. Of course, some coaches might not feel like they can fit this additional expense into their budgets. The right team dealer can help reduce the cost of buying hockey warm up suits and other gear. To find out more, download our free resource for coaches, athletic directors, equipment managers, and parents, "Cost Reduction Methods: A Guide for Reducing the Cost of Team Sports Gear, Apparel, and Uniforms."