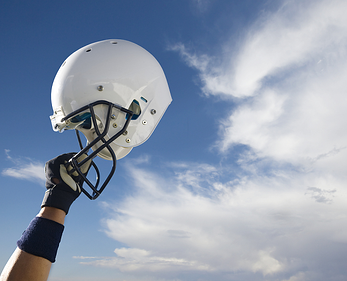 Fans pining for their favorite professional football teams to wear old school uniforms may be disappointed this season. The National Football League's Head, Neck and Spine Committee has discouraged teams from issuing multiple helmets to their players, so squads with classic helmets that differ in color from their normal ones will be forced to stick to their regular headgear. In this article, NFL spokesperson Brian McCarthy explains the decision as follows: "This offseason, we communicated a recommendation from the Head, Neck and Spine Committee and the Player Safety Advisory Panel to those teams planning to wear throwback uniforms for at least one game this season...They recommended that players no longer wear different helmets as part of a 'throwback' or 'third' uniform."
It should be noted that teams whose regular and throwback helmets are the same color can simply switch the decal on them in order to play in their old school threads. However, some teams, such as the New England Patriots, don't have that luxury. For years, the Patriots have donned their red throwback uniforms along with white throwback helmets. Since the Patriots usually wear silver helmets, they will no longer be able to wear the white helmets and, consequently, the team will no longer be able to truly sport their old school uniforms.
Bleacher Report focuses on the rule's effect on the Patriots' beloved "Pat Patriot" logo, the decal on the white throwback helmet. The article emphasizes that Pat Patriot is an extremely popular team logo that served as the decal on team's helmets until 1993. Pat Patriot and the old school uniforms are frequently seen at Gillette Stadium, the Patriots' home, throughout the year.
The NFL has implemented a number of measures, including rule changes on the field, in order to decrease the number of concussions and head injuries that players suffer. However, the moves have met some criticism from fans, and this seemingly innocuous uniform stipulation will certainly face some disapproval as well. The article mentions that, at the Patriots Pro Shop, one out of every five Patriots items sold today is vintage in some respect. This number speaks to the amount of passion football fans have for classic football apparel and, even though many fans care about the safety of their favorite players, many others will wish that this recommendation wasn't followed. Moreover, some fans might question the recommendations plausibility; is wearing a different helmet for one or a few games really a greater risk to one's safety? The Head, Neck and Spine Committee believes so, which is all that ultimately matters. For some teams' fans, vintage football apparel will only be seen in the stands this season.