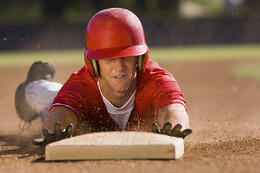 Nothing shows your team's pride like investing in a new set of team uniforms. With so many options available at many pricing and performance levels, your team apparel dealer can assist you in finding the right look that meets your specific budget.
So, when you and your team decide to make the leap and purchase new team uniforms you are going to want to keep your new uniforms looking great for multiple seasons. There are many ways in which you can extend the life of your new team uniforms, including maintaining their color, fit, and overall quality look.
Follow These Smart Tips to Keep Your Team Uniforms Looking New:
Every garment has specific laundering instructions that are typically found on the main sew label or adjacent to the main sew label. My expectation is that the majority of new uniforms, especially those made by Under Armour, can be laundered using warm water and tumble dry on medium heat. As always, use only color safe bleach when removing stubborn stains from light fabric colors and use it sparingly.
Make sure to ask your team dealer about the decoration method used on your new team uniforms, different methods have different laundering requirements. For example, tackle twill lettering is far more durable than heat applied graphics. You need to make sure you treat the decoration portion of your uniform like its own product with its own specific needs. Zippers and Velcro can destroy a garment during laundering. Make sure that your zippers are pulled tightly closed and all velcro hook and loop closures are covered. Velcro can pull apart tightly woven fabrics during the normal washing cycle leaving pulls and snags, zippers can break off rendering a garment useless. Keep these accessories securely closed and covered.
Regularly cleaning and caring for your team uniform will keep it looking new and help extend the life of this important and valuable investment. With so much pressure on school and team budgets today, getting the most out of the equipment and uniforms you purchase will allow you to spend additional dollars on coaching, spirit wear and field and travel expenses.