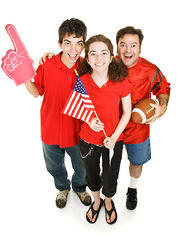 Team sports fundraising is an integral part of any athletic department's mission to fund its sports. Schools have traditionally settled on bake sales and car washes to generate some extra revenue for their teams, but these old methods are gradually being replaced by digital fundraising. More specifically, online fan shops are increasingly becoming a part of the school sports fundraising landscape. Are you looking for a new way to raise money for your school sports program? Here are four different ways that online fan shops are superior to more conventional fundraisers.
1. They Are Easy to Set Up
When leagues and schools commit to hosting bake sales and car washes, they must spend valuable time planning and coordinating these events for them to be successful. In contrast, online fan shops selling Spirit Wear are easy to set up, particularly when your league or school is partnering with a team dealer that can handle the web hosting, credit card processing, store merchandising, inventory management for hundreds of in-stock items, custom decorating, delivery and customer service. The team dealer will offer a full selection of team gear from brands such as Under Armour, Adidas, Champion and others in various sizes and styles on the site, allowing parents, friends, and other supporters to purchase Spirit Wear apparel at any time.
2. They Don't Require Volunteers
One of the major pitfalls of any standard fundraising campaign is the amount of time that is required of the people that run them. Parents and coaches have jobs and families to attend to, and some players are simply not interested in raising money for their schools. Of course, coaches can demand that their players help out, but finding adults to volunteer can be both time-consuming and, at times, unsuccessful. Online fan shops eliminate this problem by using a digital space to sustain a fundraising campaign. Moreover, your team dealer will take care of any technical issues with the site if they arise.
3. They Aren't a One-Time-Only Event
Traditional team sports fundraising is inherently flawed because it is limited to a few weeks (at the most) during a school year. The amount of time that can be spent raising money for your school's sports programs typically depends on the amount of time that your coaches, players, and fans can dedicate to the cause, which is often minimal. By choosing to use an online fan shop, schools give themselves the ability to raise money throughout the entire year. If a basketball player's parent wants to buy a team warm-up jacket in July, he or she can do so. Simply put, you increase your potential for profit by expanding the window during which you can fundraise.
4. They Make You More Money
This is related to the point above. Since your school can now fundraise 365 days a year, you have gained more opportunities to generate revenue for all of your sports teams. A good team dealer will provide you with a 10 percent rebate based on all of your online fan shop sales, a significant number when you consider the amount of apparel that can be sold throughout the year. Additionally, your league does not have to invest or hold inventory. The Team Dealer handles this at their expense.
Online fan shops are a great way to raise money for school sports teams—and the more money your team can raise, the less it has to draw from its limited budget. If you're looking for more ways to help your athletic department manage its budget, download our free guide, "Cost Reduction Methods: A Guide for Reducing the Cost of Team Sports Gear, Apparel, and Uniforms." It's for coaches, athletic directors, equipment managers, parents, and anyone else involved with planning a team or league budget.