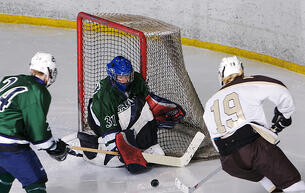 Last year, your boy's basketball team had some of its jerseys ripped in the contentious final game of the season. Also, several of your girl's basketball team uniforms are mysteriously missing. And on top of that, both the girl's and boy's hockey squads have been complaining for years about the old and stale hockey sweaters that your school has worn for the past ten years but are now severely outdated.
Your school likely has many gear and uniform requirements that need to be accommodated as it tries to outfit its winter sports teams. If you're working on a tight budget, this usually means telling coaches and players, "No." It might seem impractical to replace your school's winter sports apparel with updated versions when money is scarce, but there are ways to manage your costs and to find appealing uniforms. The following is a list of four steps to save your school money on winter sports apparel while also satisfying your teams' needs.
1. Select a Team Dealer Which Merchandises Packages for You
Selecting an established team uniform dealer that represents dozens of brands will result in saving money across the board on all of your sports apparel and gear needs. The very best team dealers put together team uniform packages, providing a selection of alternatives from the high end brands like Under Armour and Adidas to middle range brands to value lines. Relying on a team dealer that has this level of merchandising expertise has significant value. In short, you'll be able to buy all of your winter sports teams' uniforms from one team dealer taking advantage of suggestions for the best products at the lowest cost and obtaining every available discount available.
2. Buy in Bulk
If a team dealer does not account for bulk ordering to save you money, you should look elsewhere. Consider buying from one source. Even without formal contracts in place team dealers will offer discounts and volume rebates for the aggregate of all of your purchases. Moreover, brands that the team dealer carries will often reward the school and/or league with free promotional merchandise based on achieving purchase commitment levels. If you meet these levels, the brand will send your school free gear. Additionally, the most progressive team dealers provide a credit towards future purchases on all unifroms and gear purchased. Typically, these programs offer a 5% credit that can be applied on future orders. These are savings that add up.
3. Choose Alternative Brands
Your athletes will always be familiar with the leading brands, such as Under Armour and Adidas, but purchasing gear that is made by alternative brands is critical if you want to save money. Though alternative brands like Turfer Athletic are often cheaper than leading brands, their quality is often just as good. You can also mix-and-match, buying some gear from leading brands and some from alternative brands.
4. Buy Standard-Issue Gear
When outfitting your winter sports teams, you should look for gear that can be used by all of your winter athletes. For instance, a warm-up jacket or suit with a non-sport specific logo and your school's name could be worn by any of your winter sports teams. This type of school team apparel can be reused for a number of years.
These four steps will save you money and allow your winter sports teams to have the best gear available on and off the court and ice. Learn more about saving money on team gear by downloading our free guide, "Cost Reduction Methods for School and League Sports."