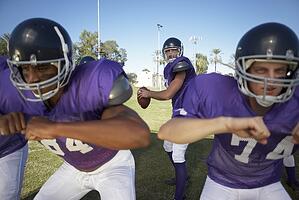 Your school's football team just faced a conference rival whose players and coaches proudly sported their state-of-the-art jerseys and sideline apparel. Meanwhile, your team wore the same faded uniforms and sideline jackets that it has been wearing for the past decade. Your players' parents are beginning to become frustrated with the team's ragged look. They ask, "Why can't we look like our rivals?"
Parents can often be demanding and unrealistic when it comes to their children's athletic teams, but you should not merely dismiss their concerns about your school's team sports apparel. After all, there are countless ways that you can improve your school's appearance on and off the field while still being mindful of a tight budget. What follows is a list of four ways that your school can avoid being outmatched in the team sports apparel game and still cut costs.

1. Buy in bulk
This is perhaps the best way to save money on team sports apparel. Even if you offer numerous sports for both genders that require different types of gear, you can still consolidate your apparel needs into one bulk, all-school purchase. Team dealers are more than willing to work with your school to meet all of your apparel needs, and they encourage these bulk shipments by offering discounts and volume rebates for large orders.
Basically, the more apparel you order, the greater the discount. Additionally, team dealers represent leading brands such as Nike, Adidas, and Under Armour. When you meet certain purchase commitment levels, these companies will send your school free apparel.
2. Analyze your apparel choices by reading about different brands
Schools often make the mistake of assuming that they need to buy the most prominent brands and top-of-the-line apparel for every sport and piece of gear. This line of thinking leads to exceedingly high apparel costs. Schools that get the most out of the money that they spend on team sports apparel understand that alternative brands such as Champion, Turfer Athletic, Sport-Tek, Eagle, and Fit 2 Win can provide your team with the same level of quality as leading brands. Using a combination of leading and alternative brands can provide your school with the appearance and quality that it deserves at a manageable price.
3. Choose brands that tend to keep styles consistent for three to five years
When you make a big, all-school sports apparel purchase, you don't want your jerseys and other apparel to look outdated in a year. This can happen when you choose brands that frequently change their styles. By using brands that remain consistent with their styles, you keep your teams' apparel looking fresh.
4. Choose standard-issue gear
Looking for discount sports team apparel means searching for gear that is versatile and applicable to more than one season, gender, and sport. On standard-issue apparel, you can use a non sport-specific logo that all your schools' sports can utilize.
Managing team apparel costs can be challenging for any school. For more suggestion about how to cut costs, download our free resource for coaches, athletic directors, equipment managers, and parents, "Cost Reduction Methods: A Guide for Reducing the Cost of Team Sports Gear, Apparel, and Uniforms."