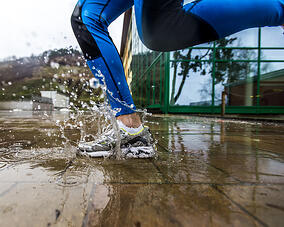 Team sports coaches, parents, and league administrators have plenty of options for athletic gear and apparel. One decision that buyers consistently face for team gear is whether to purchase waterproof or water-resistant training apparel (or neither). What's the difference and why would you need them?
Waterproof team gear for absolute protection in the rain
Different manufacturers define the two words differently, but generally speaking, when they talk about waterproof apparel, they mean apparel that is absolutely impenetrable to water. Waterproof team gear delivers effective moisture management and helps coaches and players stay dry in rain, sleet and other inclement weather conditions. There are many waterproof fabrics available. Gore-Tex , for example, has become almost synonymous with waterproof. But it's important to remember that not all waterproof material is Gore-Tex. There are alternatives that perform just as well, if not better, in certain situations. Cost is also a factor to consider when choosing between Gore-Tex and alternatives.
While waterproof gear is great at keeping the rain out, breathability is a challenge. If waterproof clothing does not manage moisture and air well, players' sweat will collect inside a garment during games or practice, and that can cause these athletes to overheat or get chills when they rest. Instead of waterproof clothing, some coaches and athletes may consider water-resistant outfits for increased breathability.
Water-resistant team gear for cost-effective rain protection
Water-resistant apparel usually has a DWR (durable water repellant) finish—a chemical application that repels water. DWR finishes only last a limited amount of time, however. If athletes are competing in heavy rain or stay outdoors for several hours, rain will penetrate their water-resistant apparel and these players will become damp and cold, which could limit their performance during games and practices.
Many types of water-resistant clothing include artificial fibers that are great for moisture management. For example, various water-resistant shirts and jackets are made from nylon and neoprene because both of these materials are treated with a polyurethane coating that enables these outfits to hold up well during steady rain without causing any damage to the shell, lining or any other section of the clothing.
Should you choose waterproof or water-resistant team gear?
Now that you understand the differences between waterproof and water-resistant clothing, you must decide which type of apparel suits your team. However, you should consider several factors before making your decision:
Consider the season - In the northern hemisphere, it rains more in spring than it does in fall. Rain is more likely to become an annoyance if your team is training for spring lacrosse than fall football. In addition, indoor sports teams might not need rain protection at all.
Consider your location - If your sports organization is based in the dry southwest, spending money on waterproof training gear is probably an over-investment.
Consider the use - Water-resistant material might be sufficient for players, who keep their body temperatures up by remaining constantly in action, but don't forget the coaches. Weathering the storm on the sidelines can get pretty miserable if your jacket fails to keep the water out.
If your team or league partners with a team dealer for gear and apparel, ask your dealer to help you decide between waterproof gear and water-resistant gear. They will use their apparel expertise to help you make choices that fit your budget and the conditions your team faces. Our free guide for coaches, athletic directors, equipment managers, and parent volunteers also discusses many of the performance and quality issues buyers encounter when in the market for team gear, apparel, or uniforms. Download it by clicking on the image below.
Google