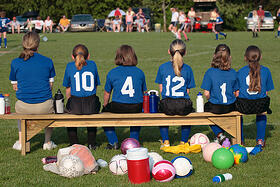 On-field uniforms may be the most recognizable apparel a sports team wears, but it is outerwear that really drives costs. For team sports budget planners for high school, college, or league programs, choosing styles and brands for the travel suits, jackets, sweatshirts, and warm-up gear players wear before, during, and after practice is always a headache. Coaches, athletic directors, and equipment managers have to balance factors like weather protection and athletic performance against cost, which can quickly spiral out of control.
If budget season is upon you and you've found yourself face to face with the outerwear enigma, here's one strategy to lessen its impact on your team apparel budget: choose standard-issue gear that will work across sports, season, and age groups. By "standard-issue" we mean styles and brands for team sports outerwear that have been approved for use in multiple situations by multiple teams. Team outerwear needs do not vary as widely as on-field uniform needs.
Your game plan for standard-issue team gear
Here are some ways you can reduce team apparel costs using standard-issue gear:
Standardize travel suits to one brand.
Choose a brand that has a suit that can be worn for all sports seasons: a three-in-one option.
Issue the same hoodies, sweatshirts, shirts, and shorts for practice to all teams.
Use a non sport-specific logo on standard issue apparel (for example, "athletics) so it can be used by each team.
Give parents and fans the ability to buy team gear that's consistent with the organization brand
Travel in style within a team apparel budget
The first item on that list, the team travel suit, is one team outfit that is simple to standardize across your school's many teams. When they're on the road, there's no reason why your lacrosse team should be decked out differently than your basketball team. Purchasing in bulk from a team dealer, choose travel suits branded with your school or league name rather than for individual sports or teams. Not only will all-school travel suits give your team a sharp, uniform look, they can be used for all three seasons, reducing the costs to players of participating in multiple sports.
Other ways to get a handle on team apparel costs
Finding ways to pay for outwear for a school or league sports organization can be tough, but it's not the only challenge coaches and league administrators encounter during budget season. You're always looking for ways to save money on gear and apparel without sacrificing quality. For several more, download our free guide, "Cost Reduction Methods," using the image below. Download it and share it with the other members of your budget team.